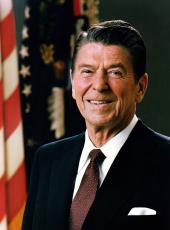 Letter Accepting the Resignation of William Henkel as Assistant to the President
Dear Bill:
It is with great regret that I accept your resignation as Assistant to the President, effective September 25, 1987.
I am deeply indebted to you for your outstanding efforts in the many roles you've played in my two terms of office and the campaign which preceded them. From your advance work in 1980 to your appointment in 1982 as a Special Consultant, and then as Special Assistant to the President and Director of Presidential Advance, your assignment as Director of Operations for my second Inaugural and, finally, as Deputy Assistant and then Assistant to the President, you have carried out your important and sensitive responsibilities with unfailing professionalism, personal insight, and skill.
The demands that have been placed on your position have grown rapidly with the accelerating changes that have occurred not only in American domestic life but in our status as the leading nation of the Free World. Distance and time have been compressed, both in geographical terms and in the pace of political events that call for evaluation and response. In 1918, Woodrow and Edith Wilson spent 12 days on the steamer George Washington traveling from New York to Brest for the Paris Peace Conference. Today, my entire trips to Europe, Japan and the Far East, for Economic Summits or official state visits, have consumed less time than my early predecessors required merely to reach their destinations.
Despite the changes that technology has wrought, the arduous variety of your tasks—what Merriman Smith in A President's Odyssey called "problems of protocol, logistics and personal safety; detailed minute-to-minute schedules"—has remained fundamentally the same. As his phrases make clear, much more than travel is involved—your duties encompassed the safety of the President and those who accompany him, the public's interest in contact with the person they have chosen to lead them, the public's understanding of the national policies which so profoundly affect their lives, and the furtherance of U.S. goals and interests in its relations with its allies and the world community.
You have always recognized the scope of your responsibilities within this framework, and I have relied on you extensively, your advice and your experience, as we developed plans to communicate my agenda and to explain my policies both here at home and abroad. As a leading member of my White House Planning Group, you have helped guide the design and articulation of my Administration's themes and programs. Far from being an adjunct to policy, this planning lies at the heart of the success we have enjoyed in turning ideas into proposals and proposals into legislation. Few people who deal so closely with the public have fewer opportunities for getting public credit than you have had, but I can assure you that your colleagues in the Administration, and I, personally, recognize how much credit for our success belongs to you.
If I'd had the opportunity, I might have counseled you against the offer of further service you included in closing, because I now feel free to call upon you from time to time to extend the yeoman's labors you've already given this Presidency. From the bottom of my heart, I want to thank you and Ali, and your entire family, for the long hours of separation you've endured and the many sacrifices you've made for me and for this Nation.
Nancy and I thank you, send our best wishes for the future, and pray that God will bless you always.

Sincerely,
RONALD REAGAN

September 14, 1987

Dear Mr. President:
After considerable thought and with mixed emotions, I have concluded I cannot delay any further my return to the private sector. The experiences of the past five years have been the most rewarding and fulfilling of my life. Because of these experiences and my deep respect and affection for you and Mrs. Reagan, the decision to submit my resignation effective September 25, 1987 has been extremely difficult. It has been an honor and privilege to serve as an Assistant to the President since January, 1986 and, prior to that, as Deputy Assistant to the President, Special Assistant to the President and Director of Presidential Advance.
I have often contemplated returning to Merrill Lynch since my two-year leave of absence expired, over three years ago. However, I always concluded there were compelling challenges here at the White House and I might in some way be able to help. Now, however, family and personal considerations require me to end my full-time commitment but not my continuing loyalty, devotion and dedication to the principles you have so vigorously and successfully represented. My decision has been made easier because of the excellent team now in place in the White House.
For over five years, I have had the unique honor to help you communicate to the American people your agenda and policies through your public events and travel. As a result, I have had the privilege to travel with you throughout this great nation and to have witnessed firsthand the dramatic resurgence of the American spirit. To have seen and felt firsthand this renewed pride in America—pride that is as a direct result of your leadership and example—has been an unforgettable reward. I have witnessed history unfold as you moved America forward, by restoring confidence in our institutions, our economy and ourselves. To chronicle even the highlights of these events would be impossible—there are so many—but my most indelible memory is the mutual love and respect between you and the American people. I have deeply admired your willingness to go to the people for what you believe in. For example, no one gave tax reform a chance—you did, you went to the people, and now we have a fairer tax system.
Another responsibility you entrusted to me was helping plan and direct your international travel and foreign public diplomacy. In five short years, the march of democracy worldwide and the growth of economic freedom are a direct result of your leadership and example. No one has represented America better than you, and I have never been prouder to be an American than to be with you at the DMZ, the Great Wall, Pointe du Hoc, Omaha Beach, Bergen-Belsen, Geneva, the Berlin Wall . . .
Domestically and internationally, your Presidency has made a dramatic difference. My family, but especially my new daughter, Jessica, will benefit from your efforts as America goes forward into the New Century.
I am confident that with your remaining time in office you will complete the framework for lasting world peace and genuine economic prosperity in a freer nation and world.
Thank you for the confidence you have placed in me and the opportunity to serve you and this great country during the past five years. Hopefully, I can continue to help you, and I hope you will call upon me for other assignments.
With the very best wishes for every future success to you and Mrs. Reagan.

Sincerely,

WILLIAM HENKEL
Ronald Reagan, Letter Accepting the Resignation of William Henkel as Assistant to the President Online by Gerhard Peters and John T. Woolley, The American Presidency Project https://www.presidency.ucsb.edu/node/251317