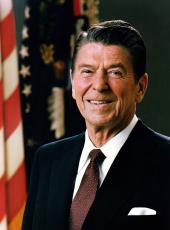 Letter Accepting the Resignation of Robert H. Bork as United States Circuit Judge
Dear Bob:
It is with deep sadness that I accept your decision to resign as United States Circuit Judge for the District of Columbia Circuit, effective February 5, 1988. In my many appointments to the Federal bench, I have attempted to select men and women of uncommon intellect, unimpeachable integrity, and a strong, steady temperament—men and women with special gifts for communication and reasoning and with an abiding courage of conviction. You, Bob, epitomize these virtues at their very finest—which is why I turned to you to fill Justice Lewis Powell's seat on the Supreme Court.
The unprecedented political attack upon you which resulted in the regrettable Senate action was a tragedy for our country. All Americans are the poorer today for not having your extraordinary talents and legal skills on the High Court.
And yet, as I read your letter of resignation, I cannot help but feel a warm admiration for the difficult decision you have made. There is, as you state, a lively public debate brewing in this country, fueled in no small part by your confirmation hearings—a debate over the proper role of the judiciary in our system-. of representative self-government. That debate has advocates who view the courts and the Constitution as mere instruments for political advantage. Effective advocacy of a more traditional approach to the judicial function occurs too infrequently. Your recent experience, against a background of unswerving commitment to the doctrine of judicial restraint, makes you uniquely well suited to carry that debate forward.
For your many years of dedicated public service, especially the last six on the Court of Appeals, your country and I thank you. For your courageous adherence to conviction and refusal to forsake your ideals, your country and I salute you. For daring to embark on this new course in selfless service of the cause of truth and justice in the public arena, your country and I remain in your debt.
While your public service on the Court of Appeals will be sorely missed, I am confident that your writings and other contributions as a private citizen are destined to have a most profound and lasting impact on the Nation.
Best wishes for success in your future endeavors.

Sincerely,
RONALD REAGAN
January 7, 1988

Dear Mr. President:
Six years ago you appointed me to the United States Court of Appeals for the District of Columbia Circuit. That was a great honor and I continue to be grateful to you for it. The task of serving the law and the ends of justice has made the last six years absorbing and fulfilling.
It is, therefore, with great reluctance, and only after much thought and discussion with my family, that I have now decided to step down from the bench. This decision is the more difficult because of what I owe to you, to the many Americans who have written to me in the last six months to express their support, and, indeed, to all Americans our system of justice serves. Because I recognize these debts and obligations, I want to explain the course I have chosen.
The crux of the matter is that I wish to speak, write, and teach about law and other issues of public policy more extensively and more freely than is possible in my present position. As a sitting judge on a very busy court, I cannot devote the time and energy I wish to public discourse. Moreover, constraints of propriety and seemliness limit the topics a federal judge may address and the public positions he may advocate. My experience as your nominee for Associate Justice of the Supreme Court of the United States made me acutely aware of the restrictions on my ability to address issues. For several months various highly vocal groups and individuals systematically misrepresented not only my record and philosophy of judging but, more importantly, the proper function of judges in our constitutional democracy. This was a public campaign of miseducation to which, as a sitting federal judge, I felt I could not publicly respond. What should have been a reasoned national debate about the role of the courts under the Constitution became an essentially unanswered campaign of misinformation and political slogans. If, as a judge, I cannot speak out against this attempt to alter the traditional nature of our courts, I think it important to place myself where I can.
You nominated me to my present court and to the Supreme Court precisely because I do speak for the traditional view of the judge's role under the Constitution. It is a view that goes back to the founding of our nation and was ably articulated by, among others, James Madison, Thomas Jefferson, Alexander Hamilton, and Joseph Story. It has been espoused by the greatest judges in our history. That view, simply put, is that a judge must apply to modern circumstances the principles laid down by those who adopted our Constitution but must not invent new principles of his own. A few years ago I said:
In a constitutional democracy the moral content of law must be given by the morality of the framer or the legislator, never by the morality of the judge. The sole task of the latter—and it is a task quite large enough for anyone's wisdom, skill, and virtue—is to translate the framer's or the legislator's morality into a rule to govern unforeseen circumstances. That abstinence from giving his own desires free play, that continuing and self-conscious renunciation of power, that is the morality of the jurist.
That was my view then. It is my view now. Though there are many who vehemently oppose it, that philosophy is essential if courts are to govern according to the rule of law rather than whims of politics and personal preference. That view is essential if courts are not to set the social agenda for the nation, and if representative democracy is to maintain its legitimate spheres of authority. Those who want political judges should reflect that the political and social preferences of judges have changed greatly over our history and will no doubt do so again. We have known judicial activism of the right and of the left; neither is legitimate.
My desire to participate in the public debate on these matters is what prompts my decision to leave the bench at this time. I had considered this course in the past but had not decided until the recent confirmation experience brought home to me just how misfocused the public discourse has become. A great many supporters have written to urge that I continue in public service. The decision I have made will, I believe, allow me to do just that. My views on these matters are of long standing. Because of my experience as your nominee, I am now in a better position to address the issues than ever before.
Though I am sure this decision is the correct one, I find, as the time of my departure draws near, that the prospect of leaving the federal judiciary fills me not merely with reluctance but with sadness. Any lawyer should be deeply honored to be a federal judge and to serve with a nationwide corps of the most dedicated men and women one is likely ever to meet. The work of an appellate judge may be the aspect of the legal profession for which I am best suited. I have actively enjoyed the day-to-day work of judging—the exchanges with lawyers at oral argument, the discussions with colleagues and clerks in arriving at a correct decision, and the effort to craft the best opinion one can. Trying with all one's capacities to do justice according to law is a deeply satisfying experience, both intellectually and emotionally. I will miss it more than I can say. I find some consolation in leaving behind a record of which I believe I may be proud, and one by which I am content to be judged.
In choosing a date for my departure, I have considered, among other factors, the desirability of leaving time for the nomination and confirmation of my successor as well as the importance of beginning my new work without undue delay. It will, however, take a few weeks to complete work on hand. I ask, therefore, that you accept my resignation as Circuit Judge, United States Court of Appeals for the District of Columbia Circuit, effective at the close of business, Friday, February 5, 1988.
With deep gratitude for your confidence in me, for appointing me to this court and nominating me to the Supreme Court, I will always remain

Yours truly,

ROBERT H. BORK
Ronald Reagan, Letter Accepting the Resignation of Robert H. Bork as United States Circuit Judge Online by Gerhard Peters and John T. Woolley, The American Presidency Project https://www.presidency.ucsb.edu/node/254041