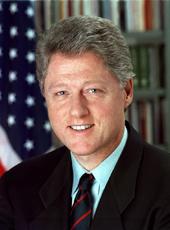 Letter Accepting the Resignation of Les Aspin as Secretary of Defense
Dear Les:
It is with deep sadness that I accept your request that, for personal reasons, you be relieved of your duties after your years of intense, unselfish and extraordinarily effective service to our nation and its security. I am grateful that you are prepared to remain at your post through January 20, or beyond if necessary, as we work through the immediate issues before us and as we manage a smooth transition to your successor.
I hope that after you have taken the break you have requested, you will consider other important assignments that you would find challenging and personally rewarding.
I am proud of your accomplishments over the past year, and you should be, as well. In the Congress, in the campaign and as Secretary of Defense, you have been an effective leader in efforts to harness together our defense strategy and defense resources, culminating in this year's Bottom Up Review. Together with the Joint Chiefs of Staff, you skillfully managed difficult issues—such as the military service of homosexuals and women in combat—that could have proved both deeply divisive and damaging to our military effectiveness and readiness. You helped conduct the first review of our nuclear posture since the end of the Cold War and advanced a new counter proliferation strategy. And you helped in the distinguished appointment of a new Chairman of the Joint Chiefs of Staff, General John Shalikashvili.
All of this took skill and hard work, and all Americans are in your debt for it.
I look forward to urging you once again to bring your great skills and deep devotion to your country's service.
With admiration,
BILL CLINTON
---
Dear Mr. President,

It has been one year since you asked me to serve as your Secretary of Defense. It has been an honor for me to work with you as we have reshaped our country's military to protect Americans in a vastly changed world.

I am proud of the progress we have made in dealing with these changes. We now have a clear strategic sense of the new dangers we now face. After a year's work we will be able to secure our country against these new dangers with a Bottom Up Force. By strategically defining the strengths we need and honestly projecting how much this force will cost, we have also built a new consensus to invest what is necessary to underwrite this Bottom Up Force. As a result we have moved for the first time in fifteen years away from the polarizing debates about how much we should spend on defense and worked together to build the military strengths we know we need. This has helped end the gridlock that for years kept us from governing and from concentrating on our agenda at home.

We have also worked together with our uniformed military leadership to find common ground on some difficult social issues that were avoided in the past and which could have divided our military. So we can now ensure that we will have a ready to fight force without the continuing distractions of these controversies.

As you know, dealing with these changes have made it a tough year for us all—tough issues, tough calls.

I share your pride in the progress we have made. But now, as we have discussed on previous occasions, I ask you to relieve me of the duty as your Secretary of Defense on January 20. I ask this for quite personal reasons. I have been working continually for over two decades to help build a strong American military. It's time now for me to take a break and undertake a new kind of work.

Of course, I pledge my every effort to support you and my successor in a smooth and orderly transition. You can continue to draw on one of the strongest and most talented senior management teams the Department of Defense has ever seen. Bill Perry and General Shali will give you a continuity of leadership as my successor works with the Senate to assume office.

Finally, I want to thank you for the honor of serving you and our country. You are a great Commander-In-Chief. I know that while you are our President our country will grow in all of its strengths, Americans will continue to be secure, our men and women in uniform will always be honored, and we will be true to our best values as a people.

Sincerely,

LES ASPIN
NOTE: These letters were made available by the Office of the Press Secretary on December 15 but were not issued as White House press releases.
William J. Clinton, Letter Accepting the Resignation of Les Aspin as Secretary of Defense Online by Gerhard Peters and John T. Woolley, The American Presidency Project https://www.presidency.ucsb.edu/node/220136