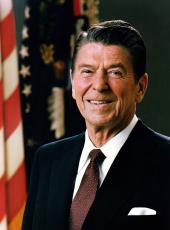 Letter Accepting the Resignation of James A. Baker III as Secretary of the Treasury
Dear Jim:
Your letter of today wasn't entirely unexpected, but I have to admit to mixed feelings. After all, you've been with me for more than eight years now as a trusted friend and adviser. But you're going on to something of fundamental importance-helping to elect George Bush as the next President of the United States.
One of the things that I hope will make your new job easier is your own solid record of accomplishment and extraordinary service to the American people. As White House Chief of Staff for four years, you managed the legislative process that produced the Economic Recovery Tax Act and Omnibus Budget Reconciliation Act of 1981, the Social Security Reform Act of 1983, and countless other victories. You provided wise foreign policy counsel in National Security Council deliberations, and you guided my 1984 reelection campaign to its 49-state win.
As Secretary of the Treasury, you shepherded tax reform through Congress—a job that many said could never be done. You moved our third-world debt strategy to a new, growth-oriented stage. You helped resist the threat of protectionism, and advanced the historic U.S.-Canada Free Trade Agreement. And you negotiated masterfully with your colleagues in the Group of Five and Group of Seven—creating a new and more effective framework for the coordination of international economic policy. As my principal economic adviser, you can take justifiable pride in the fact that our economic policies have now produced a record 69 consecutive months of peacetime growth and kept inflation down while reducing unemployment to the lowest levels in 14 years and creating record numbers of new jobs for Americans. What a legacy!
You and I first met when we opened Texas campaign offices for the 1972 Presidential election. Later, I was somewhat surprised to learn of your grandfather's admonition to: "Work hard, study, and keep out of politics." His view represented a healthy strain of American skepticism about the potential pitfalls of involvement with politics. But in your career you have set an important example: You have clearly demonstrated that the best of the political arts can be combined with first-class professionalism in the effective pursuit of America's interests.
So it is with tremendous admiration and gratitude that I accept your resignation effective August 18. I'm proud of all you've done and of the job that awaits you. Come to think if it, I'm sure your grandfather would be proud, too!
Nancy joins me in wishing you and Susan every happiness. God bless you and all the Baker family.

Sincerely,
RONALD REAGAN
August 5, 1988

Dear Mr. President:
Immediately after your election victory almost eight years ago, you broke the mold of convention. You named as your White House Chief of Staff the former campaign manager of your last competitor in the primary campaign. In doing so, you not only surprised most political and governmental observers, you shocked me as well. But at the same time, you gave me an opportunity to serve for which I will always be profoundly grateful.
Thanks to your willingness to entrust me with responsibility, I was able to participate directly in what you rightly termed a New Beginning. In your first term, I was able to share in the euphoric sense of victory as your economic program was enacted; in the renewed sense of pride as respect for America was restored at home and abroad; and in appreciation for your very special bond with the American people—who gave you an extraordinary vote of confidence, reelecting you with a forty-nine state electoral majority.
In your second term, you honored me again by entrusting me with responsibility as your Secretary of the Treasury. You thus afforded me a special opportunity to help formulate and implement economic policy in a challenging historical context. I am particularly grateful for having had the opportunity to help advance three of your initiatives that I believe will be widely judged to have lasting significance: in domestic economic policy, historical tax reform; and in international economic policy, a new system of economic policy coordination endorsed by the Heads of State and Government at several annual Economic Summits and a Free Trade Agreement between the U.S. and Canada, the world's two largest trading partners.
I have alluded to but a few of the achievements that have made me, like so many people, proud to be associated with your Presidency. You have achieved the first successful two-term presidency in almost three decades. I am confident that historians will view the Reagan era as one in which America refound her pride, her strength, her confidence and her proper direction-for which, of course, we must be all deeply thankful to you.
There is no way I can fully repay you for the trust and kindness you have shown me. But, as you know, the Vice President has asked that I assume the Chairmanship of his Presidential election campaign. And it does seem to me that in seeking to advance your Vice President's candidacy, I could best help insure the survival of your legacy and assure that your remarkable contributions are extended on toward the twenty-first century. I therefore respectfully request that you accept my resignation as Secretary of the Treasury—and propose that this resignation be effective on August 17 in order that I might assume my new responsibilities upon the Vice President's nomination for the Presidency at our party's National Convention.
In a way, it would thus seem that I might go out where I came in. But I have been forever enriched by the experience you have afforded me. And, of course, the world has changed substantially in the intervening almost eight years. Happily, that change has been for the better. Now, the challenge is to carry forward the progress you have fostered-and to build upon it. I seek to help meet that challenge with an image of your bold and effective leadership etched forever in my mind—and with appreciation for your warmth and kindness deep in my heart.
Susan joins me in gratitude and affection to you and to Nancy, and in our warmest wishes for continued success, health, and happiness to you both.

Sincerely,

JIM
Ronald Reagan, Letter Accepting the Resignation of James A. Baker III as Secretary of the Treasury Online by Gerhard Peters and John T. Woolley, The American Presidency Project https://www.presidency.ucsb.edu/node/254815