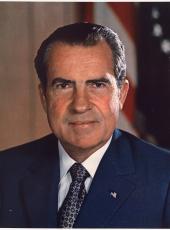 Letter Accepting the Resignation of Herbert Stein as Chairman of the Council of Economic Advisers.
Dear Herb:
I have your letter of July 1, and though I have known of your plans for some time, it is nevertheless with reluctance and the deepest personal sense of regret that I accept your resignation as Chairman of the Council of Economic Advisers, effective on a date to be determined.
With your departure, I am losing an immensely valued economic adviser who has served this Administration with unqualified dedication, and who for nearly three years has guided the Council with great distinction as its Chairman. It has been a period of exceptional challenge but also unusual opportunity for economic policy, and I believe we have accomplished much in relation to the size of the problems which have confronted us. Your participation in the crucial decisions during this time has clearly left its imprint on our economic policies and, I am confident, it will leave a favorable mark on the Nation's economic history.
Through your regular reports, I have been kept well informed about the economy, and the analyses you and the Council have provided me have given valuable insights into complex economic issues. I have especially admired the skill, clarity and substance with which you have been able to carry out the difficult but essential responsibility of explaining the economy and our policies to the public. I know your many friends and colleagues throughout government join me in saying your sound counsel and experienced leadership on economic matters will be greatly missed.
As you assume your new position at the University of Virginia, I welcome this opportunity to express not only my appreciation for your outstanding contributions to the well-being of our Nation, but also my thanks for the loyalty and dedication you have given me personally. This has meant a great deal. You may be certain we will take advantage of your proximity to call upon your talents in the future. In the meantime, Pat joins me in extending to Mildred and you our heartfelt good wishes for every success and happiness in the years ahead.

Sincerely,
RICHARD NIXON
Note: Mr. Stein's letter of resignation, released with the President's letter at San Clemente, Calif., read as follows:
Dear Mr. President:
My departure having been delayed three times, the day is approaching when I must leave the Chairmanship of your Council of Economic Advisers to take up my professorship at the University of Virginia at the beginning of September. I want on this occasion to thank you for the consideration you have shown me and the confidence you have placed in me. No CEA Chairman could want a more supportive and understanding President than you have Been.
You have been responsible for conducting U.S. economic policy during a turbulent period, when the whole world was swept by storms of inflation. Your policy has been firm and decisive. The results have surely not been all we would have liked, but there has been no serious recession, inflation is less violent than in most other developed countries, and the U.S. has a good prospect for reducing its inflation rate. The real incomes of the American people are higher now than they have ever been except briefly in 1973, and will undoubtedly move on to new heights. You have taken steps toward reforms of many aspects of policy, domestic and international, that will strengthen the American economy and the world economy in the future. If there is support for persisting on your present anti-inflationary path the record of your terms will stand high in objective histories of the American economy. You will be recognized as a world leader in the fight against the economic disease of democracies--inflation, just as you are a world leader in the fight against the political disease of nations--wars.
To serve you has been a pleasure and a privilege. It is with deep regret that I shall leave the stimulating life in the Executive Office and the group of dedicated men and women in the Administration who are assembled to serve the Nation under your guidance.
Please be assured of my continued best wishes and support.
Sincerely yours,
HERBERT STEIN
Richard Nixon, Letter Accepting the Resignation of Herbert Stein as Chairman of the Council of Economic Advisers. Online by Gerhard Peters and John T. Woolley, The American Presidency Project https://www.presidency.ucsb.edu/node/256139