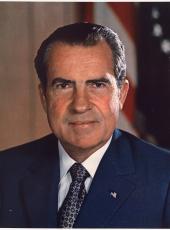 Letter Accepting the Resignation of George W. Romney as Secretary of Housing and Urban Development
Dear George:
Your resignation as Secretary of Housing and Urban Development is a source of special regret to me, even though we have discussed your desire to leave the Cabinet for several months. I am grateful that you have agreed to serve until confirmation of a successor, and I accept your resignation effective at that time.
As a member of the Cabinet, you have contributed enormously not only of your time and energies, but also of that profound concern for the public good that has been the mark of your life and your career. Yours has been one of the most difficult assignments in the government, and you have handled it with great dedication and skill. Despite the bleak prospects which confronted the housing industry in 1969, your creative and determined actions have helped not only to set all-time records in housing production in each of the last two years, but also to energize a rebounding economy.
Your record is remarkable also for your forthrightness in pointing out the deficiencies in the untried housing programs that you were called upon, when taking office, to administer; for the innovative ways in which you worked to re-shape other HUD programs to reverse central city decay; for the programs you set in motion to modernize the housing industry, and for your establishment of mechanisms to stabilize the industry through a steadier and broader flow of mortgage funds. In addition, I have been particularly impressed by your success in decentralizing your department's operations, and bringing them closer to the communities and people they are meant to serve.
As you know, I share your concern with the need to encourage private problem-solving, and so to reduce the public temptation to expand the role of government beyond its proper limits. I also have great respect for your long and distinguished record of stimulating private and voluntary action. Thus, although I shall greatly miss having you as a member of the Administration, I am confident that in your private capacity you will continue to play a vital and constructive role in achieving the goals that we seek for America as we approach the Nation's 200th anniversary.
It has been a great personal pleasure to work with you during these past four years. Pat joins me in extending to you and Lenore our warmest good wishes, and in the hope that we will continue to see both of you often in the years ahead.
Sincerely,
RICHARD NIXON
[Honorable George W. Romney, Secretary of Housing and Urban Development, Washington, D.C. 21410]
Note: Secretary Romney's letter of resignation, dated November 9, 1972, and released with the President's letter at Camp David, Md., read as follows:
Dear Mr. President:
In submitting my resignation from the Cabinet, I want to thank you for the privilege of serving the nation under your great leadership. The experience has been a rewarding and invaluable one that, among other things, has deepened my understanding of our country's political processes.
As you know from our several in-depth discussions during the past year, my experience in public service has convinced me that inherent limitations in those political processes make the achievement of fundamental reform too dependent upon a crisis.
This results primarily from the essential but limited function of political parties and their candidates. Their basic function is to compete for the responsibility to govern. To win in this competition they must win elections. To do this they tend to avoid specific positions concerning, and discussion of, "life and death" issues in their formative and controversial stage for fear of offending uninformed voters and thus losing votes. As a result, elections and candidates seldom focus adequately on those vital issues concerning which the electorate must be knowledgeable if needed reform is to occur without a crisis.
To remedy this deficiency, the nation needs a coalition of concerned citizens dedicated to defining such issues, assembling the relevant, provable facts, identifying the alternate solutions or solution, and communicating their findings to the people. Such a body of truth seekers and communicators could create an enlightened electorate so that the parties and their candidates would find it to their advantage to seek voter support on the basis of the real issues rather than appealing to public and frequently superficial concerns of the moment.
Additionally, there is urgent need to stimulate voluntary and private problem solving in American life if the role of government is to be kept within the limits that will continue constitutional government that vests ultimate power and responsibility in the people themselves.
As concerned as I am, I would like to be free to join others in organizing nationally for such purposes. I am convinced there is too much at stake to continue to risk our national future on achieving needed reform through successfully surviving the crisis solution process and the ever increasing reliance for problem solving on governmental action.
It is for these reasons that I submit my resignation as Secretary of the Department of Housing and Urban Development, to be effective at your pleasure. I believe I can be more helpful to you and the nation in such an effort. I am grateful for the encouragement you have given me with respect to this future activity.
Fortunately for all of us, your re-election by an historic margin opens up the opportunity not only to establish a generation of peace but to achieve actions as fundamental domestically as those you are achieving internationally.
With gratitude, admiration and prayerful support of your efforts.
Respectfully,
GEORGE ROMNEY
[The President, The White House]
Richard Nixon, Letter Accepting the Resignation of George W. Romney as Secretary of Housing and Urban Development Online by Gerhard Peters and John T. Woolley, The American Presidency Project https://www.presidency.ucsb.edu/node/255788