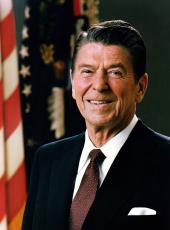 Letter Accepting the Resignation of Beryl W. Sprinkel as Chairman of the Council of Economic Advisers
Dear Beryl:
It is with the deepest regret that I accept your resignation as Chairman and a Member of my Council of Economic Advisers, effective upon a date to be determined in late November. As one of the original members of my team, you have served this Administration selflessly for what will be almost seven years. During that time, you have been one of the most articulate advocates of its philosophy and one of its most able officials. You are someone who has truly made a difference.
Your accomplishments at the Treasury Department were extremely significant. You smoothly led debt management through a difficult period, developing innovative financing techniques, including the first foreign-targeted Treasury bond and the redesigned, market-oriented savings bond, reducing government expenditures by millions of dollars. In 1981, you helped to develop the strategy to handle the savings and loan crisis. In 1982, you devised the initial strategy, still largely in place today, to deal with the international debt crisis, encouraging market-oriented economic policy reforms in debtor countries. In both of these cases, through your adroit management skills, you ensured that there would be no massive government bail-out and saved the taxpayers billions of dollars.
Time and again, you proved yourself a formidable negotiator, and the American people were fortunate to have you defending their interests. You represented our country with great ability at five economic Summits and in negotiations to establish new lending facilities for the International Monetary Fund and the Inter-American Development Bank. Perhaps your most significant negotiation resulted in the path-breaking yen-dollar agreement with Japan, in which the Japanese agreed to deregulate their domestic and international capital markets.
You were in the forefront in redefining international monetary relations. Your innovative suggestion in 1982 at the Versailles Summit resulted in the first efforts of the major industrial nations to coordinate their economic policies to achieve both strong growth and low inflation. That process of international policy coordination, which was subsequently expanded by Secretary Baker, now plays an established role in promoting sound, long-term economic policies around the world, which should result in more stable exchange rates.
Some of your accomplishments are less tangible, but no less significant. I remember the skepticism we faced in 1981, both here and abroad, when this Administration began advancing the basic tenets of a market-oriented economy, including deregulation, tax reduction, and restrictions on the size and role of government. You persuasively explained our philosophy through countless meetings and speeches, as well as quiet diplomacy, and I have watched with pleasure as so many countries gradually have begun to change their own domestic economic policies in positive ways. At home, you have helped to keep us on the path toward economic growth and price stability consistently advocating adherence to sound economic policies. I will particularly miss your presence in Washington as a forceful champion of my economic philosophy. You have played a major part in helping to achieve what promises to be the longest peace-time expansion in history, with almost 58 months of unbroken prosperity and 14 million new jobs to date.
Finally, Beryl, as a result of your consistent good judgment and sound advice, you have strengthened the Council of Economic Advisers as a respected and influential institution in setting national economic policy. You have had an important influence in shaping our positions on tax reform, trade, agriculture, and many other issues. You will be sorely missed by the Cabinet, by the White House staff, and by me.
Nancy joins me in extending our thanks, our appreciation, and our warmest wishes to you and Barbara for every future happiness and success.

Sincerely,
RONALD REAGAN
September 10, 1987
Dear Mr. President:
It is with great reluctance that, for personal reasons I have decided to submit today my resignation as Chairman of the Council of Economic Advisers.
It has been my highest privilege and honor to serve in your administration since January 1981, first as Under Secretary of the Treasury for Monetary Affairs and, most recently, as Chairman of the Council of Economic Advisers.
I accepted the original invitation to serve in your administration because of my high regard for you and for the philosophy and positions which you have for many years so ably articulated. It has been a treasured experience to participate in the countless important initiatives which your administration has undertaken in the area of economic policy which have restored the strength of our great nation. I will always be grateful for this opportunity which you have given me.
My wife, Barbara, and I plan to return to our hometown of Flossmoor, Illinois. It is my intention to remain at the Council until late November to help ensure an orderly transition. I would be honored, on my return to the private sector, to be of any assistance that you or your administration may request.
Barbara joins me in extending our very best wishes to you and Mrs. Reagan. With warmest personal regards. Sincerely,

BERYL W. SPRINKEL
Ronald Reagan, Letter Accepting the Resignation of Beryl W. Sprinkel as Chairman of the Council of Economic Advisers Online by Gerhard Peters and John T. Woolley, The American Presidency Project https://www.presidency.ucsb.edu/node/253752