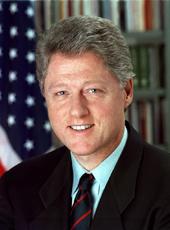 Letter Accepting the Resignation of Bernard W. Nussbaum as Counsel to the President
Dear Bernie:
With deep regret, I accept your decision to resign as Counsel to the President. Your friendship and advice have meant a great deal to me over the years.
During your tenure, this Administration named the highest percentage of women and minorities to the Federal Judiciary in history, while meeting, in a vast number of cases, the highest standards set by the American Bar Association. These Judges and Justices will leave a lasting imprint on our case law, and their places on the federal bench will be clear and abiding signs of encouragement to those long excluded from administering our system of justice. Those serving, and those who can now dream of being considered, owe you a great debt of gratitude.
You played an especially significant role in the selections of Attorney General Janet Reno, FBI Director Louis Freeh, and Associate Justice Ruth Bader Ginsburg—people who will make our streets safer and our society more just for years to come. They are pioneers, and yours was the lamp that lit their way.
It has been said that the best a man can give is his living spirit to a service that is not easy. And we have worked together in Washington at a time when serving is hard. But you gave this Administration one of its liveliest spirits and keenest minds, along with your special reverence for duty and friendship. For these contributions, I will be forever grateful; for your accomplishments, I hope you will be forever proud.
Sincerely,
BILL CLINTON
---
Dear Mr. President:
It has been a great honor and privilege to serve you as Counsel to the President. I am proud of the accomplishments of this Administration and those that I know will be achieved in the months and years to come. I am also proud of the many contributions my office has made to the wide array of policy initiatives of your Administration.
It was also an honor to have assisted in your choice of Janet Reno to be Attorney General of the United States, Louis J. Freeh to be the Director of the Federal Bureau of Investigation, and Ruth Bader Ginsburg to sit on the Supreme Court of the United States. I am particularly proud of assisting in your selection of more than 60 men and women of the most distinguished and diverse backgrounds ever to serve on the federal bench.
As I know you know, from the day I became Counsel, my sole objective was to serve you as well and as effectively as I could, consistent with the rules of law, standards of ethics, and the highest traditions of the Bar. At all times I have conducted the Office of the White House Counsel and performed the duties of Counsel to the President in an absolutely legal and ethical manner. Unfortunately, as a result of controversy generated by those who do not understand, nor wish to understand the role and obligations of a lawyer, even one acting as White House Counsel, I now believe I can best serve you by returning to private life. With this letter I am therefore tendering my resignation. It will be effective April 5, 1994, to assist you in arranging for an orderly transition in the Counsel's office.
I will always value your friendship and that of the First Lady, and will always be grateful for the opportunity you gave me to serve. I wish you both the very best.
Very respectfully,
BERNARD W. NUSSBAUM
NOTE: Originals were not available for verification of the content of these letters.
William J. Clinton, Letter Accepting the Resignation of Bernard W. Nussbaum as Counsel to the President Online by Gerhard Peters and John T. Woolley, The American Presidency Project https://www.presidency.ucsb.edu/node/219039