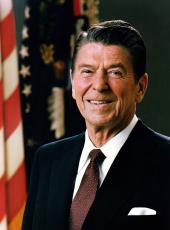 Letter Accepting the Resignation of Anne M. Burford as Administrator of the Environmental Protection Agency
Dear Anne:
It is with deep regret that I am accepting your resignation as Administrator of the Environmental Protection Agency.
For the past two years, you have faithfully and honestly carried out your mission of helping this Nation cleanse its air and water and make wiser use of its lands. I am personally very grateful to you for the fine-and often courageous—service you have given, and I share your pride in the progress we have made during your stewardship at EPA.
Your resignation today is an occasion of sorrow for us all. But it is more than that: it is an act of unselfishness and personal courage that once again demonstrates your loyalty to the Nation.
Over the past several weeks, I have been greatly disappointed that some persons have unjustly attacked you and have made unfair judgments based upon allegations and innuendo alone. You have responded with a grace and straightforwardness that have won you countless admirers across the Nation.
Anne, I join your many friends in saying: you can walk out of the Environmental Protection Agency with your head held high. You have served this Nation well, and I look forward to counting upon you serving as a member of my Administration in the days and years ahead.

Sincerely,
RONALD REAGAN
March 9, 1983
Dear Mr. President:
I hereby tender my resignation as Administrator of the United States Environmental Protection Agency effective immediately.
I do so with great regret, but it is now clear that my resignation is essential to termination of the controversy and confusion generated by the outstanding dispute over Congressional access to certain EPA documentary materials. Without an end to these unfortunate difficulties, EPA is disabled from implementing its mandate and you are distracted from pursuing the critical domestic and international goals of your administration.
I came to Washington to serve you, because I believe in you and the direction which you are setting for the country. I know of your strong commitment to the environmental goals of the people of the United States—the protection of their health, and welfare, cleaner air, cleaner water, the wise use of our land. I have endeavored to reach those goals through a four point program: better quality of science; regulatory reform; more authority and responsibility in state government; and to do a better job of protecting the environment with fewer taxpayer's resources.
I believe the policies are sound, and that during your administration the Agency has made significant progress in achieving these goals.
We have made an environmental record of which you can justly be proud.

We are, in this Administration, for the first time, controlling the disposal of hazardous materials on America's land. We are, in this Administration, for the first time, cleaning up the by-products of a chemical revolution-the benefits of which we have all enjoyed for the last forty plus years.
We have developed guidelines which will diminish the discharge of toxics into our nation's waterways. We have begun, for the first time, to test and regulate newly developed chemicals as required by the Resource Conservation and Recovery Act in 1976. We have cleared out a backlog of state actions which were pending federal decision making for long periods of time. We have delegated to state government a large share of our duties. And, we have achieved a real reduction in our operating budget and a real reduction in our work force.
I strongly believe that the principal of executive privilege is essential to maintaining the constitutional balance of power, and I have been the staunch defender of that principal since last Fall when I exercised it for you, pursuant to your direction.
To paraphrase your words, Mr. President, I also strongly believe that the privilege should not be exercised in any manner which would erode the confidence of the public in its servant, the government.
It has been an unequaled honor for me to share in the great work of the Environmental Protection Agency and of your administration, to both of which I remain deeply committed.
I look forward to serving you in a new endeavor in the very near future and hope that this action will terminate the controversy and confusion that has crippled my agency and prevents my dedicated colleagues at the Environmental Protection Agency from doing their jobs.

Sincerely yours,

ANNE M. BURFORD
Note: The White House announced that Mrs. Burford submitted her resignation to the President during a meeting with him in the Residence.
As printed above, this item follows the text of the letters released by the Office of the Press Secretary.
Ronald Reagan, Letter Accepting the Resignation of Anne M. Burford as Administrator of the Environmental Protection Agency Online by Gerhard Peters and John T. Woolley, The American Presidency Project https://www.presidency.ucsb.edu/node/262934