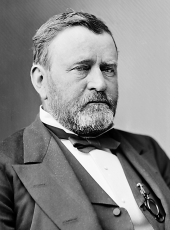 Letter Accepting the Republican Presidential Nomination
To Thomas Settle et al.
Washington D. C, June 10th, 72 THOS. SETTLE PRES. NAT. REP. COM. PAUL STROBACH, ELISHA BAXTER, C. A. SARGENT, AND OTHERS, V. PRS. GENTLEMEN
Your letter of this date, advising me of the action of the Convention held in Phila Pa on the 5th & 6th of this month, and of my unanimous nomination for the Presidency by it, is received. I accept the nomination, and through you return my heartfelt thanks to your constituents for this mark of their confidence and support.
If elected in November, and protected by a kind Providence in health and strength to perform the duties of the high trust confered, I promise the same zeal and devotion to the good of the whole people for the future of my official life, as shown in the past; Past experience may guide me in avoiding mistakes inevitable with novices in all professions and in all occupations.
When relieved from the responsibilities of my present trust, by the election of a successor, whether it be at the end of this term or next, I hope to leave to him, as executive a country at peace within its own borders, at peace with outside nations, with a credit at home and abroad, and without embarassing questions to threaten its future prosperity.
With the expression of a desire to see a speedy healing of all bitterness of feeling between Sections, parties or races of Citizens, and the time when the title of Citizen carries with it all the protection and privileges to the humblest, that it does to the most exalted, I subscribe myself,
Very respectfully
your obt. svt.
U. S. GRANT
Ulysses S. Grant, Letter Accepting the Republican Presidential Nomination Online by Gerhard Peters and John T. Woolley, The American Presidency Project https://www.presidency.ucsb.edu/node/354840