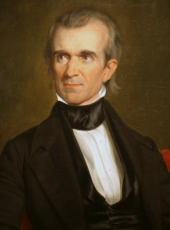 Letter Accepting the Democratic Presidential Nomination
TO HENRY HUBBARD, Wn. H. ROANE, ET AL.
Columbia, Tennessee
Gentlemen:
I have had the honour to receive your letter of the 29th ultimo, informing me that the Democratic National Convention then assembled at Baltimore, had designated me to be the candidate of the Democratic party for President of the United States, and that I had been unanimously nominated for that office.
It has been well observed that the office of President of the United States should neither be sought nor declined. I have never sought it, nor shall I feel at liberty to decline it, if conferred upon me by the voluntary suffrages of my Fellow Citizens. In accepting the nomination I am deeply impressed with the distinguished honor which has been unexpectedly [See APP Note] conferred upon me by my Republican friends. I am duly sensible of the great and weighty responsibilities which must ever devolve on any citizen who may be called to fill the high station, of President of the United States. I deem the present to be a proper occasion to declare that if the nomination made by the convention shall be confirmed by the people and result in my election, I shall enter upon the discharge of the high and solemn duties of the office, with the settled purpose of not being a candidate for re-election. In the event of my election, it shall be my constant aim, by a strict adherence to the Old Republican land marks, to maintain and preserve the public prosperity, and at the end of four years I am resolved to retire to private life. In assuming this position I feel that I not only impose on myself a salutary restraint, but that I take the most effective means in my power of enabling the Democratic party to make a free selection of a successor who may be best calculated to give effect to their will, and guard all the interests of our beloved country.
JAMES K. POLK
APP NOTE:  Our earliest source, Jenkins, does not include the word "unexpectedly."  That is included in the University of Tennessee edition noted below.  The Jenkins version also did not capitalize the words Democratic and Republican.
SOURCES: The Life of James Knox Polk, John S. Jenkins, Auburn:  James M. Alden, 1851, and Correspondence of James K. Polk, Vol 7. Wayne Cutler, ed. University of Tennessee Press, 1989.
James K. Polk, Letter Accepting the Democratic Presidential Nomination Online by Gerhard Peters and John T. Woolley, The American Presidency Project https://www.presidency.ucsb.edu/node/342163