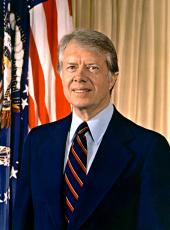 Labor Day Statement by the President.
Labor Day has traditionally been a time of rest and relaxation, the last long weekend of summer. But it is also a time to reflect on our accomplishments and challenges.
We can be thankful and proud of the hard work that has built the most productive economy in world history. We can be thankful for the brave men and women in American labor whose past struggles won fundamental rights for American workers. They strengthened our democratic system and enlarged the freedom of opportunity for succeeding generations.
Today is an appropriate time to acknowledge our recent accomplishments. This is the third Labor Day of my Presidency. In these years, we have strengthened important health, safety, pension, and minimum wage protections for American workers.
Today, almost 100 million men and women have jobs in our Nation—8 1/2 million more than when I took office. This dynamic expansion of our economy has made a crucial difference for those who suffer most from unemployment—minorities, women, and young people.
Nonetheless, we still face difficult challenges that threaten to erode some of these hard-won gains. The most serious challenge is inflation—which erodes the paychecks of all working Americans. Working together, we can forge a long-term partnership that will reduce inflation and keep it down. We must also face our energy challenge, conserve the energy we use now and develop new supplies of energy to fuel our farms and factories, to move our goods and people, to provide the warmth and light for our homes.
Our Nation can surmount these problems. Throughout our history, American workers have overcome challenges in ways that brought new progress and prosperity. By confronting our current challenges we can provide better lives for all Americans.
Americans value work and the opportunity to contribute to their communities and their Nation. Let us pause today to give thanks for the abundance of our blessings and to rededicate ourselves to meeting the challenges of our time.
Jimmy Carter, Labor Day Statement by the President. Online by Gerhard Peters and John T. Woolley, The American Presidency Project https://www.presidency.ucsb.edu/node/249331