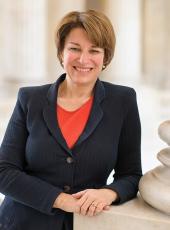 Klobuchar Campaign Press Release - Amy Klobuchar Earns 20 New Iowa Endorsements from Community Activists, Dickinson County Democrats' Chair
DES MOINES, IA — Ahead of the Iowa Democratic Party's Liberty and Justice Celebration, the Klobuchar campaign today announced new endorsements from 20 influential community and party activists across Iowa. Klobuchar, who has been endorsed by 13 current and former Iowa legislators -- more than any other presidential candidate -- is set to return to the Hawkeye state this week for her 22nd visit since announcing her candidacy for President.
"Amy Klobuchar's Midwestern pragmatism, honesty, and work ethic make her stand out as a U.S. Senator in Washington, D.C.," said Brett Copeland, Chair of the Dickinson County Democrats. "In Iowa, we recognize her as a neighbor and a leader who will win in 2020. This nation must once again lead from the heart with experience born in the Heartland. That's why I'm proud to endorse Amy Klobuchar for President of the United States."
"Senator Klobuchar's legislative record is second-to-none, and her commitment to restoring civility in our politics is an important and refreshing message," said Doug Bailey, a Hamilton County Supervisor. "I believe she has the record, values and focus to win back rural voters in states like Iowa and deliver meaningful changes in the lives of everyday Americans as president."
"For years, Amy Klobuchar has been a tireless champion for union workers across our country, defending the right to collectively bargain and protecting union pensions," said Jeff Shudak, the Iowa State Political Advisor for Plumbers Local 16, based in Council Bluffs. "Amy understands that unions are the backbone of the American workforce, and she'll continue to advocate on our behalf as president."
"Amy Klobuchar has a long record of standing up for immigrant and Muslim communities across Minnesota," said Karim Jawda, an Iraqi immigrant community leader in Des Moines. "She understands the importance of America's role in providing safe haven and opportunity to immigrants and refugees from around the world, and she realizes that our diversity is our strength. As president, Amy will bring that belief to the White House and work to empower and support our immigrant communities. I'm proud to support her campaign for president."
"Amy's common-sense approach to governing and her desire to bring people together are exactly what our country needs in this moment," said Mary Benton, former County Attorney of Guthrie County, Iowa. "I have no doubt that her long track record of success as a US Senator will continue to resonate with caucus-goers across Iowa in the coming weeks and months. I look forward to making the case to Iowans that she is the right candidate to be our nominee."
Additional endorsers include:
• Kay Hale, Ely - Ely City Council Member, 2019 Linn County Democrats Hall of Fame inductee
• Jake Oeth, Des Moines - Former staffer for U.S. Senator Tom Harkin and Rep. Bruce Braley
• Tim Benton, Guthrie Center - Former Assistant Guthrie County Attorney, Democratic activist
• Connie McKean, Anamosa - Legislative assistant and campaign manager of State Rep. Andy McKean
• Tyler Mills, Keokuk - Lee County Democrats Executive Committee member
• Karl Nolin, Spencer - Clay County, Iowa Democratic activist
• Carol Nolin, Spencer - Clay County, Iowa Democratic activist
• Bev Clark, Baxter - Jasper County, Democratic activist, retired social worker
• Jenny Pryke, Newton - Jasper County Democratic activist
• Carrie Tedore, Dubuque - Dubuque County Democratic activist
• Greg Davis, Johnston - Polk County Democratic activist, retired pastor
• Shanda Carstens, Panora - 2018 Polk County Volunteer of the Year and Guthrie County activist
• Abdi Salan Hassan, Des Moines - Community activist
• Fatuma Hirsi, Des Moines - Community activist
• Dhoal Larijin, Des Moines - Community activist
To date, Klobuchar has visited 56 of Iowa's 99 counties. She will return to Iowa this week following her "For All of America" bus tour earlier this month.
Amy Klobuchar, Klobuchar Campaign Press Release - Amy Klobuchar Earns 20 New Iowa Endorsements from Community Activists, Dickinson County Democrats' Chair Online by Gerhard Peters and John T. Woolley, The American Presidency Project https://www.presidency.ucsb.edu/node/365968