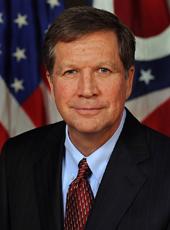 Kasich Campaign Press Release - Washington Post op-ed: John Kasich's "Happy Warrior" Optimism is Refreshing on the Campaign Trail
By Ruth Marcus
In the year of the angry candidate and the even angrier voter, John Kasich stands out as the self-proclaimed "prince of light and hope."
As Kasich instructed voters at a town hall meeting here — his second in this town, population 1,444 — "If you want to just yell and scream at the other side, you should not vote for me. . . . Don't vote for me."
Little about Kasich's message is standard political operating procedure. He is more apt to mention God on the campaign trail than he is his Democratic opponents, much less his Republican ones.
"This is not a political speech — this is a life talk," Kasich told workers at a warehouse in the town of Bow, observing that "the Lord has put his hand on me for some reason. But he's got his hand on everybody in this room if you let him." Then he wondered, "What do you think? Am I out of my mind here telling you this stuff?"
His style is folksy and meandering, bordering at times on goofy. One minute he's talking about streamlining government regulations, the next he's musing about parking. "You ever notice, you're at a crowded mall and somebody's getting ready to back out, and you're waiting there. Did you ever notice how long it takes them to leave that space? Huh?"
Kasich has a reputation for prickliness, yet he seems the happiest warrior on the 2016 campaign trail, with a message that is distinctly populist and bipartisan. The Kasich stump speech invariably begins with his roots: his mailman father, his coal-miner grandfather who died of black lung, his grandmother who could barely speak English.
"I come from a blue-collar Democrat town, and all the people I grew up with, most of them are doing exactly what you're doing," Kasich told the workers in Bow. "So . . . who do you think I respond to? You, or rich people?"
Read the full article here.
John Kasich, Kasich Campaign Press Release - Washington Post op-ed: John Kasich's "Happy Warrior" Optimism is Refreshing on the Campaign Trail Online by Gerhard Peters and John T. Woolley, The American Presidency Project https://www.presidency.ucsb.edu/node/313203