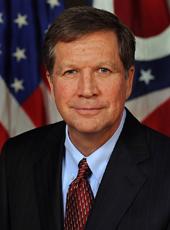 Kasich Campaign Press Release - The Washington Post Highlights John Kasich's Dominant Ground Game in New Hampshire
By Ed O'Keefe
BOW, N.H. — It was a very good week for John Kasich in New Hampshire.
Largely forgotten in the nationwide presidential race, the Ohio governor almost got kicked off the main stage at the most recent GOP debate. But a series of recent polls now rank Kasich second or third behind Republican front-runner Donald Trump in the Granite State, a feat he achieved after months of quiet methodical campaigning here.
The sudden uptick drew the attention of a multimillion dollar super PAC supporting Jeb Bush's presidential campaign, which unloaded a new attack ad on Thursday that faults Kasich for expanding Medicare in Ohio and for voting as a congressman to cut military spending that forced the closure of a New Hampshire military base.
In response, a super PAC backing Kasich produced an ad that literally slings mud on to a likeness of Bush and calls the former Florida governor unpresidential. The Kasich campaign also released a web video Friday mocking Bush's record as Florida governor, claiming he raised fees on doctors' visits for poor children, increased college tuition and hiked the cost of owning a pet snake.
Amid the sniping, though, Kasich has mostly been striving to keep it clean and nonpartisan in a state that demands intimate retail campaigning — and where voters like to hear lines like the ones he delivered this week.
"I happen to be a Republican, but so what?" he said during an appearance at a logistics company here in Bow. "The Republican Party is my vehicle, not my master."
Earlier, at a town hall in Concord, N.H., he told a crowd of about 80 people, "We don't get energy by being negative. I am so tired of my colleagues out here on the stage spending all their time talking about Barack Obama. His term is over!"
That message stands in stark contrast with his GOP establishment-friendly rivals — Bush, New Jersey Gov. Chris Christie and Sen. Marco Rubio (R-Fla.) — all of whom are statistically tied with Kasich in recent surveys here but deliver a more partisan message overall on the trail. Taking note of that contrast, four New Hampshire newspapers bucked the better-known candidates and endorsed Kasich this week.
Read the full article here.
John Kasich, Kasich Campaign Press Release - The Washington Post Highlights John Kasich's Dominant Ground Game in New Hampshire Online by Gerhard Peters and John T. Woolley, The American Presidency Project https://www.presidency.ucsb.edu/node/313114