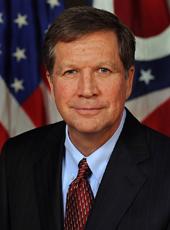 Kasich Campaign Press Release - The New York Post-Star Endorses John Kasich
The Post-StarGlens Falls, New York
April 17, 2016 
The word we kept coming back to regarding Kasich is "reasonable."
In the current political climate, Kasich's willingness to listen and find common ground was almost unheard of among the 17 Republican candidates that started last summer. It is not a surprise to us that Kasich is still standing. 
Kasich has the experience, having served nine terms in the House of Representatives and rising to the top echelons of the House Armed Services Committee. As chairman of the House Budget Committee, he sponsored an important welfare reform law that was signed into law by President Bill Clinton. He also helped broker a deal to balance the federal budget in 1997.
His work in Congress showed an ability to get things done. 
[...] 
He is "reasonable."
We're not crazy that he is still wishy-washy on climate change, favors continued spying by the NSA on Americans and believes military spending should be increased, but these seem to be essential positions for most Republican candidates.
 Our final analysis is that Gov. Kasich is the one candidate capable of getting things done if elected.
Gov. Kasich has not received even a fraction of the attention of candidate Trump, but he deserves strong consideration by all Republicans on Tuesday.
goo
John Kasich, Kasich Campaign Press Release - The New York Post-Star Endorses John Kasich Online by Gerhard Peters and John T. Woolley, The American Presidency Project https://www.presidency.ucsb.edu/node/317347