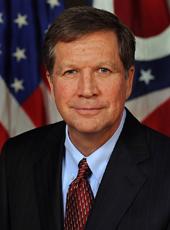 Kasich Campaign Press Release - The Associated Press Says John Kasich is Calm & Optimistic in New Hampshire

Zeroing in on New Hampshire, John Kasich campaigns with optimism

By Kathleen Ronayne

HILLSBORO, N.H. (AP) — With three weeks until the primary in New Hampshire, where John Kasich's White House hopes probably will live or die, he's approaching his campaign with a sense of calm.
Touring the state Tuesday on his campaign bus, the Ohio governor seemed fortified by a serene outlook at odds with the stakes and the pace of the Republican contest in the state, admitting in the process that this unsettles some of his advisers.
"I'm doing the best I can, nobody's working harder than I am, and I'm very much at peace," the Ohio governor told The Associated Press.
As Kasich fights for a strong finish in the state, he's strayed little from a strategy centered on the idea that voters want a candidate with a record of getting things done. And in a race where Republican voters are gravitating toward political outsiders like Donald Trump, Kasich openly talks about his 18 years as a member of Congress, pointing to his work balancing the federal budget in the 1990s. He shies away from the doom and gloom that some of his rivals project, suggesting the country's problems are easy to fix if only people work together.
As the Feb. 9 primary approaches, Kasich is seeing progress in polling, which suggests he is in a contest behind Trump with Chris Christie, Marco Rubio, Jeb Bush and Ted Cruz. Kasich is betting that his support will grow as people take a more serious look at their choices in the final weeks before voting.
He's not specifying what he'll consider a success on primary night, saying only that he'll calculate how to move forward once the results are in. Kasich says New Hampshire's style of close-up campaigning, where the town hall meeting reigns, offers him a chance to show depth on a variety of subjects. It's altogether easier than Iowa, he says.
"It's more compact, and it's 1.2 million (people) and you can stand in Manchester and hit the whole state with a pebble; it's manageable," Kasich said. "It's like running in a community."
His campaign has five offices open in the state and 15 full-time staff members, and he's backed by notable Republicans such as former Sens. Gordon Humphrey and John E. Sununu. Three New Hampshire newspapers recently endorsed him. Voters who see him speak often are impressed by his substantive answers and his positive outlook on bringing change to Washington.
"There's so much animosity in Washington these days," said Steve Burritt of Henniker, New Hampshire, and "we need someone to bring this crowd together and get some things done." Burritt said Kasich "certainly sounds like someone who could do that."
To read the full story, click here.
John Kasich, Kasich Campaign Press Release - The Associated Press Says John Kasich is Calm & Optimistic in New Hampshire Online by Gerhard Peters and John T. Woolley, The American Presidency Project https://www.presidency.ucsb.edu/node/313066