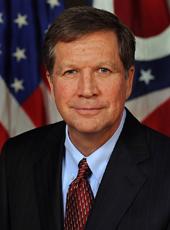 Kasich Campaign Press Release - In New York, the Times Union Endorses John Kasich
The Times UnionApril 17, 2016 
The Republican presidential primary has been quite a show. A field that started with 17 hopefuls is down to three, including, fortunately, the most solid candidate in the pack: Ohio Gov. John Kasich.
Governor Kasich has consistently been the grown-up in the room, taking sober, thoughtful positions while other candidates seemed intent on demonstrating how combative, hawkish, and anti-government they could be, and how far to the extreme right they could go without going completely over the edge. 
While we disagree with his positions on issues like abortion rights, we see in Governor Kasich a candidate who strives to adhere to his values without being divisive. He's the only one of the three with executive experience in government, and on his watch Ohio's shaky finances have stabilized and the state has seen modest job growth. Though he opposes Obamacare, he was practical enough to take advantage of the program's expansion of Medicaid for the benefit of his constituents' health.
[...]
Neither Mr. Trump nor Mr. Cruz is suited to be president, and either would likely lead the party to a crushing defeat this fall. The one hope for Republicans is to deny Mr. Trump the majority of delegates he needs, opening the way for a contested convention at which a more credible, sensible and broadly appealing candidate can emerge. In casting a ballot for Governor Kasich on Tuesday, New York Republicans could lead the party back from the brink.
Read the full editorial here.
John Kasich, Kasich Campaign Press Release - In New York, the Times Union Endorses John Kasich Online by Gerhard Peters and John T. Woolley, The American Presidency Project https://www.presidency.ucsb.edu/node/317258