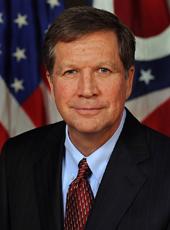 Kasich Campaign Press Release - Massachusetts Sen. Bruce Tarr Op-Ed: Kasich Is Ready to Lead
Kasich is the dark horse success that emerged from the pack once the votes started coming in. The theatrical, sound bite world of the debate stage may be a poor fit for a positive, reasonable candidate like Kasich. But anyone who has attended one of his town hall gatherings in New Hampshire or South Carolina has had the opportunity to see Ohio's governor in his element, and they invariably leave with a better impression of him than they had when they walked through the door.
Why, Because John Kasich is a leader who knows what he's doing. Not only is he the only candidate to have ever balanced the federal budget, but he's the only one to even propose a plan to balance it again as president.
—
With Kasich we can point to a record that reflects a sincere desire to serve people. Rather than yield to the will of lobbyists, he insists on considering policy decisions through the lens of the average person, who experiences the effects of his decisions most acutely.
Because John Kasich is the only remaining Republican candidate to have both legislative and executive leadership experience, he is ready like no other to get the nation out of the ditch and back onto the road. He is the steady hand we need on the tiller as we navigate the greatest challenges that confront our nation. It's time to vote for a leader who is ready to serve on Day One.
To read the full article, click here.
John Kasich, Kasich Campaign Press Release - Massachusetts Sen. Bruce Tarr Op-Ed: Kasich Is Ready to Lead Online by Gerhard Peters and John T. Woolley, The American Presidency Project https://www.presidency.ucsb.edu/node/313544