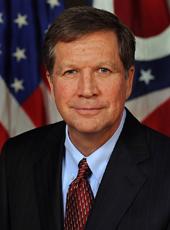 Kasich Campaign Press Release - Kasich Unveils Further Details of Strategy to Dismantle the Washington Bureaucracy
KASICH UNVEILS FURTHER DETAILS OF STRATEGY TO DISMANTLE THE WASHINGTON BUREAUCRACY
Plan for Long-Overdue Closure of Commerce Department Would Be Template for Other Agencies
Today Ohio Gov. John Kasich unveiled further details of his plan for dismantling the Washington bureaucracy with a proposal for shutting down the U.S. Department of Commerce, an agency that has been marked for elimination by both Republicans and Democrats for 30 years yet still exists due to Washington gridlock.
Kasich's plan for eliminating the Commerce Department—a "Franken-agency" comprised of a mishmash of unrelated functions—is a template for how he would shrink, consolidate and improve other federal agencies in order to balance the budget in eight years and take our power, money and influence back to our states and communities.
"Commerce is a case study in Washington dysfunction. It's like a basement that politicians keep stuffing pet projects into and it never gets cleaned out. As a result, needed efforts suffer and costs and efficiency are ignored. I will break it up, put the pieces we need in the right places, send other pieces back to the states and simply stop doing those things that aren't needed. Americans would save money and it would send a huge signal to Washington that business as usual is over. My plan for Commerce is a template I would take to all federal agencies—shrink, consolidate, shutdown and send responsibilities back to us in our states and communities," said Kasich.
Some of the highlights of Kasich's plan include:
• Consolidating Natural Resources Agencies: Almost half of the Commerce Department's budget goes to the National Oceanic and Atmospheric Administration, which includes the National Weather Service and the National Hurricane Center. These and related efforts would be consolidated at the Department of the Interior, which has a similar mission to study the natural world and preserve and safeguard America's natural resources.
• Improving Trade Promotion & Trade Violation Enforcement: Trade promotion and monitoring of sensitive exports would go to the State Department, while trade deal enforcement would be consolidated at the International Trade Commission to speed responses to violations.
• Returning Economic Power to States and Communities: Commerce's economic development grant programs are similar to those in state governments and the Department of Housing and Urban Development. They would be reviewed for duplication and then transferred to HUD where they would be returned to states and communities in large flexible block grants. Trade adjustment efforts could be transferred to the Department of Labor, where similar efforts exist.
• Improving Economic and Population Statistical Analysis: The Census Bureau and Bureau of Economic Analysis would be consolidated with the Department of Labor's Bureau of Labor Statistics, a natural move given their similar cultures, regular coordination and shared constituencies.
Savings would vary based on how and where offices are moved, but overall savings would be significant: for every 1 percentage point of reduced spending, approximately $1 billion would be saved over 10 years.
Other details of Kasich's outline for eliminating the Commerce Department can be found here.
Kasich's outline for eliminating the Commerce Department is additional, promised detail of his recently-released economic growth strategy, the Kasich Action Plan. This multi-faceted plan for getting America's economy moving again calls for a balanced budget in eight years and a balanced budget constitutional amendment, tax cuts for families and businesses, increasing energy supplies and security, cutting federal regulations and shrinking the federal bureaucracy's cost and interference by streamlining agencies and, whenever appropriate, sending responsibilities back to states and communities.
John Kasich, Kasich Campaign Press Release - Kasich Unveils Further Details of Strategy to Dismantle the Washington Bureaucracy Online by Gerhard Peters and John T. Woolley, The American Presidency Project https://www.presidency.ucsb.edu/node/313519