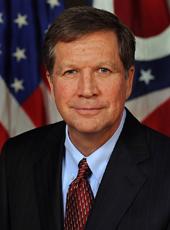 Kasich Campaign Press Release - Former Ohio State Football Coaches Jim Tressel, John Cooper Earle Bruce & Luke Fickell Support John Kasich for President
Kasich for America announced today that former Ohio State football coaches Jim Tressel, John Cooper, Earle Bruce & Luke Fickell have endorsed Gov. Kasich for president.
In response to these endorsements, Gov. Kasich said, "During my 2014 reelection campaign, I stood in Ohio Stadium and asked Ohioans to believe that the best was yet to come. It seems fitting that with three Ohio football legends at my side, I ask Ohioans to believe again. I ask Americans to believe. We face incredible challenges, but they are not beyond our reach if we come together to solve them. I'm grateful to my friends Jim Tressel, John Cooper and Earle Bruce for their bold leadership and generous support as we move into the endzone here in the Buckeye State."
Said Tressel, "John Kasich is the leader Ohioans needed in crisis, and he is the leader Americans need now. When the crushing loss of 350,000 jobs had Ohio down on its knees, he lifted the state back onto its feet and helped the private sector create over 400,000 jobs. I have no doubt that as president, Gov. Kasich will turn things around in America like he has here at home. I enthusiastically support my governor and friend and encourage my fellow Buckeyes to do the same."
Tressel served as head coach of the Ohio State Buckeyes football team from 2001 to 2010, leading the team to six Big Ten titles and the first national championship in 2002 for the first time since 1970. In 2014 he was inaugurated President of Youngstown State University.
Said Cooper, "I've watched as John Kasich left his mark on Washington as the architect of the balanced budget and then here at home as he led our state out of a deep recession. He's the kind of Reagan-esque leader who inspires us to believe that our best days are yet to come and brings us together to make them a reality. I urge Ohioans to step up and push John Kasich past the finish line."
Cooper led the Ohio State Buckeyes to three Big Ten Championships as head football coach from 1988 to 2000. After retiring from coaching, he worked as a scouting consultant for the NFL's Cincinnati Bengals and as a college football analyst on ESPN.
Earle Bruce said, "I'm proud to support Gov. Kasich in any way I can. He has the vision and experience to tackle our country's greatest challenges and leave a stronger and safer country to future generations. He knows what's possible and knows what it takes to get there, which puts him head and shoulders above the rest of the candidates. I'm feeling good about his chances tomorrow."
Bruce succeeded Woody Hayes as head football coach in 1979, leading the Buckeyes to four Big Ten Championships until his retirement in 1987.
Said Fickell, "As a proud Columbus native, I've had a front row seat to the incredible work Gov. Kasich has done in our state over the last five years. We've gone from down-and-out to up-and-coming in a very short time. Jobs are back, the economy's growing and people are hopeful again. The same commonsense leadership that has worked for Ohio will work for America. I'm proud to join Coaches Tressel, Cooper and Bruce in supporting John Kasich for president."
Fickell, a Columbus native and graduate of The Ohio State University, served as the Buckeyes football interim head coach during the 2011 season. As defensive coordinator and linebackers coach, he has coached on the team for 14 consecutive seasons.
John Kasich, Kasich Campaign Press Release - Former Ohio State Football Coaches Jim Tressel, John Cooper Earle Bruce & Luke Fickell Support John Kasich for President Online by Gerhard Peters and John T. Woolley, The American Presidency Project https://www.presidency.ucsb.edu/node/316867