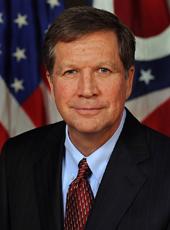 Kasich Campaign Press Release - Endorsement: U.S. Senator Rob Portman Endorses John Kasich for President
ENDORSEMENT: U.S. SENATOR ROB PORTMAN ENDORSES JOHN KASICH FOR PRESIDENT
Today, U.S. Senator Rob Portman endorsed Ohio Governor John Kasich to be the next President of the United States. Portman will serve as a National and Ohio Co-Chair of Kasich's campaign.
Portman and Kasich served in the U.S. House of Representatives together and were both elected to statewide office in Ohio in 2010. They have worked together for more than two decades on behalf of Ohio and share a commitment to the conservative policies that create opportunities for all Americans to rise.
Portman issued the following statement:
"I have decided to endorse Governor John Kasich for President because he is a leader who has a proven record of delivering results. John turned Ohio around at a tough time and I believe he can do the same for our country. I have known John for over 20 years and consider him a good friend. John inherited a mess from former Governor Ted Strickland. Under Governor Strickland, Ohio lost over 350,000 jobs and ranked 48th in job creation, as companies left Ohio for other states. Applying Ohio commonsense and conservative values, Governor Kasich worked with the Republican team to turn a record $8 billion shortfall into a $2 billion surplus, cut taxes by $5 billion, and added over 385,000 new jobs. Governor Kasich has done a great job leading Ohio's comeback, and I believe he is needed now to do the same for our country as the next President of the United States."
Kasich said: "Rob is a tremendous asset for Ohio in the Senate and has played an important role in the recovery of jobs for our state. We worked together as I helped Ohioans recover from the mess left behind by my predecessor and Rob's opponent, Ted Strickland, and I'm very proud to have his endorsement. Rob is a rare voice for common sense in Washington and someone who delivers real results. I look forward to him returning to the Senate and working with him as President to advance the strategies that keep our economy strong and our country safe."
During his career Portman has earned the respect of colleagues on both sides of the political aisle for his work on IRS reform, balanced budgets, drug prevention, land conservation, welfare reform and to tear down trade barriers to U.S. exports.
As a National Co-Chair of Kasich's campaign, Portman will join former U.S. Senate Majority Leader Trent Lott (R-MS), former U.S. Senator John E. Sununu (R-NH), conservative stalwart Gay Gaines and influential entrepreneur Larry Paul in helping guide the Kasich campaign's nationwide efforts. Kasich continues to be inspired by the groundswell of support his campaign is receiving and will never give up trying to bring Americans together and make our nation stronger and safer.
John Kasich, Kasich Campaign Press Release - Endorsement: U.S. Senator Rob Portman Endorses John Kasich for President Online by Gerhard Peters and John T. Woolley, The American Presidency Project https://www.presidency.ucsb.edu/node/313208