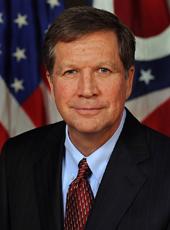 Kasich Campaign Press Release - ENDORSEMENT: Reagan National Security Adviser Robert McFarlane Endorses John Kasich
Today, Robert "Bud" McFarlane, former national security adviser to President Ronald Reagan, endorsed Ohio Governor John Kasich for president and joined the Kasich for America National Security Advisory Group.
Said McFarlane, "When I am asked what made Ronald Reagan so able a president in the realm of foreign policy, my response is 'because he was always able to define how American values and interests would best be served, propose an effective solution to a problem, and inspire the confidence of the American people that he would get it done.' Those skills don't come naturally; it takes years to develop both the necessary knowledge of other cultures and the leadership skills to apply the proper balance of diplomacy backed by strength.

"From the rise of Islamic terrorism to the looming nuclear arms race in the Middle East, our great nation faces constant and unpredictable threats. Ohio Governor John Kasich has the executive experience and strong leadership skills needed to restore our standing as the defender of freedom and advocate of American interests. No other candidate has the ability to confidently assume the role of Commander-in-Chief from day one in the White House. Today, I am proud to endorse Governor Kasich to be our next president."
Robert McFarlane's distinguished record of public service includes ten years in the White House and State Department as Counselor to the Secretary of State, the President's special representative in the Middle East, and President Reagan's National Security Advisor where he was the leading architect of the Strategic Defense Initiative (Star Wars). He currently serves as the Co-Founder of the United States Energy Security Council (USESC.org).
"Like President Reagan, we cannot waver in our resolve to stand up for our founding principles," said Kasich. "As one nation, we must protect the values of democracy, human rights and individual freedom. I am grateful for the support of Bud McFarlane, who advised President Reagan when these values were under siege abroad and helped enable him to accelerate the collapse of Marxism and the end of the Cold War. He will be a great and vital asset to our team."
John Kasich, Kasich Campaign Press Release - ENDORSEMENT: Reagan National Security Adviser Robert McFarlane Endorses John Kasich Online by Gerhard Peters and John T. Woolley, The American Presidency Project https://www.presidency.ucsb.edu/node/317091