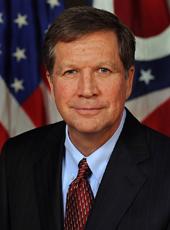 Kasich Campaign Press Release - Endorsement: Kasich for America Announces Iowa State Leadership Team
ENDORSEMENT: KASICH FOR AMERICA ANNOUNCES IOWA STATE LEADERSHIP TEAM
Today, in advance of Ohio Gov. John Kasich's Monday, November 2 visit to Iowa, 28 current and former public officials and business and community leaders endorsed John Kasich for President, and were named to the Iowa State Leadership Team. The Leadership Team will work under the direction of State Rep. Mary Ann Hanusa, Kasich for America's Iowa State Campaign Chair, and former Speaker of the Iowa House Brent Siegrist, both of whom previously endorsed Gov. Kasich.
Included among those who announced today is Iowa State Representative David Sieck, the former president of the Iowa Corn Growers Association. Said Rep. Sieck, "I am excited to join the Kasich Team. It is important to have a President from the Midwest – someone who not only understands agriculture, but who holds the common-sense conservative values that Midwesterners share. John Kasich has an unmatched record of success both in Washington and Ohio to share with Iowans, and I look forward to helping him do that in the weeks and months ahead."
"We have an incredible team in Iowa," said Kasich. "Mary Ann Hanusa is a strong, remarkable leader, and with the respected officials and activists we have added to the team today, our operation continues to strengthen and grow. I am particularly excited to welcome aboard Representative Sieck. His understanding of the state and of the concerns of Iowans will prove immensely valuable as the campaign continues to move forward."
Kasich for America Iowa Leadership Team
Current and Former Iowa Officials:
Representative Mary Ann Hanusa (Council Bluffs): State Representative from Council Bluffs, Chair of House Economic Growth Committee, former aide to Presidents George H.W. Bush, George W. Bush, and Senator Chuck Grassley.
Former Speaker of the House Brent Siegrist (Council Bluffs): Represented Pottawattamie County in the Iowa House where he also served as Speaker before becoming a candidate for the U.S. Congress.
Representative David Sieck (Glenwood): State Representative from Glenwood, Vice Chair of Administration and Regulation Appropriations Subcommittee, and former president of the Iowa Corn Growers Association.
Former State Senator Andy McKean (Anamosa): Represented Jones County in the Iowa Senate where he served as Chairman of the House Judiciary Committee and as President Pro-Tempore of the Senate.
Former State Representative Brad Hansen (Council Bluffs): Represented Council Bluffs in the Iowa House and served as Chairman of Education Appropriations and Chairman of Commerce Committee.
Former State Representative Dan Clute (Clive): Represented Polk County in the Iowa House and was also a member of the Clive City Council.
Mayor Matt Walsh (Council Bluffs): Mayor of Council Bluffs.
Daniel Voss (Atkins): Former president of the Benton Community School Board.
County Supervisor Richard Crouch (Malvern): Chairman, Mills County Board of Supervisors.
County Supervisor Scott Belt (Council Bluffs): Currently serves as Chairman of the Board of Supervisors in Pottawattamie County, and formerly served on the Council Bluffs City Council and as Mayor Pro-Tempore of Council Bluffs.
Councilman Eric Klein (Clive): Member of Clive City Council and former Company Commander in the Iowa National Guard.
Jason Besler (Cedar Rapids): Linn County Assistant Attorney.
John Lund (Atlantic): City Administrator of Atlantic.
Commissioner Carl Heinrich (Council Bluffs): Member, Iowa Racing and Gaming Commission.
Business and Community Leaders:
John Smith (Cedar Rapids): Chairman of CRST International, past president of Cedar Rapids Area Chamber of Commerce, and past chairman of Cornell College Board of Trustees.
Bill Kimball (Johnston): Former Chairman and CEO of Medicap Pharmacies, Inc., and currently serves on the Board of Directors for Casey's General Stores and Principal Mutual Funds.
Don Lamberti (Ankeny): Founder, Casey's General Stores and Chairman of the Board for Buena Vista University.
Dr. Dan Kinney (Council Bluffs): President of Iowa Western Community College.
Tom Moreland (Urbandale): Founder of Saint Jude Healthcare, serves on the Board of Directors for the National Association of Homecare and Hospice, and Board Member of Catholic Charities of the Diocese of Des Moines.
Katie Maloy (Cedar Falls): Former Finance Director for the congressional campaigns of Ben Lange and David Young.
Michael Dee (West Des Moines): Attorney at Brown Winick, former federal prosecutor, former chair of the Greater Des Moines Partnership Government Policy Council, and serves on the Board of Directors for the Mercy Foundation at Mercy Hospital of Des Moines.
Ken Donnelly (West Liberty): Member of the West Liberty Rotary Board and past President of West Liberty Heritage Foundation.
Gina Noll (Clive): Former Comptroller at the Republican Party of Iowa, longtime campaign aide to Senator Chuck Grassley and former Assistant Treasurer for Congressman David Young.
Jeff Courter (West Des Moines): Attorney at Nyemaster Goode, community leader with Des Moines Area Community College Foundation, Greater Des Moines Leadership Institute, and the Iowa State Civil Rights Commission.
Emily Piper (Des Moines): Founder of Piper Consulting Services, former Director of National Affairs for the Iowa Farm Bureau, and legislative aide at the American Meat Institute.
Joseph Patten (Cedar Rapids): Chairman of Mainstream Management in Cedar Rapids.
James Falvey (West Des Moines): Lifelong community leader and former Associate Vice President of the Iowa Cattlemen's Association.
Khayree Fitten (Ames): Chair, Students for Kasich. Originally from Mt. Pleasant, Khayree is a student at Iowa State University and was appointed by Governor Terry Branstad to the Iowa Commission on Volunteer Service.
John Kasich, Kasich Campaign Press Release - Endorsement: Kasich for America Announces Iowa State Leadership Team Online by Gerhard Peters and John T. Woolley, The American Presidency Project https://www.presidency.ucsb.edu/node/313031