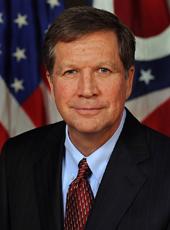 Kasich Campaign Press Release - Endorsement: Bernie Jackvony & Dawson Hodgson to Serve as Co-Chairs for Kasich for America Leadership Team in Rhode Island
Former Rhode Island Lieutenant Governor Bernie Jackvony and former State Senator Dawson Hodgson today announced their decision to support Ohio Gov. John Kasich for president and co-chair the Kasich for America leadership team in Rhode Island.
A native of Rhode Island, Jackvony served as lieutenant governor of the state alongside former Governor Lincoln Almond before serving as Rhode Island Republican Party Chairman.
Said Jackvony, "John Kasich has balanced budgets, created jobs and revived an economy. Such leadership is essential in our next president. From Day One in office, he will be ready to lead our men and women in uniform against the greatest threats to our freedom. He will make the same conservative, commonsense reforms that he implemented in Congress when he balanced the federal budget and as governor of Ohio when he helped the state's struggling economy rebound. John Kasich has all the qualities we need to see in the Oval Office, and it's an honor to lead his state team alongside Dawson Hodgson."

Hodgson said, "I believe in John Kasich because America deserves a president with the character, skill and experience to solve the big challenges facing our society. As a congressman, Kasich was the chief architect of the last balanced federal budget. As Ohio Governor, he showed decisive and collaborative leadership to improve community-police relations and presided over a state economy that added 400,000 private sector jobs while other states faltered. As a presidential candidate, Governor Kasich has stood alone as a statesman, committed to an honest and positive message that we as Americans can work together to realize the full promise of our country. I'm grateful he's running, and I'm proud to stand with him."
In 2010 Hodgson was elected to the Rhode Island State Senate, where he served two terms. A former criminal prosecutor, he was the 2014 Republican nominee for Attorney General. He currently serves as Town Solicitor for Narragansett.
In response to this key endorsement, Kasich said, "Bernie Jackvony and Dawson Hodgson are two remarkable public servants and leaders in their communities. I am proud to have their generous support as we fight to bring more opportunity and prosperity to Americans across the country."
John Kasich, Kasich Campaign Press Release - Endorsement: Bernie Jackvony & Dawson Hodgson to Serve as Co-Chairs for Kasich for America Leadership Team in Rhode Island Online by Gerhard Peters and John T. Woolley, The American Presidency Project https://www.presidency.ucsb.edu/node/312947