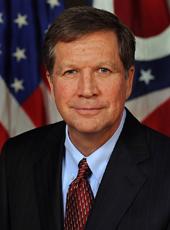 Kasich Campaign Press Release - Bloomberg Politics: Kasich Would Eliminate U.S. Commerce Department, Cabinet Post
Bloomberg Politics — Monday, November 2, 2015
Kasich Would Eliminate U.S. Commerce Department, Cabinet Post
By Margaret Newkirk
Republican John Kasich would eliminate the U.S. Commerce Department and its White House cabinet post if he were elected president, calling the agency a "cluttered attic."
Kasich would transfer many of the department's duties to other agencies, according to a proposal released by his campaign. The National Oceanic and Atmospheric Administration, or NOAA, which accounts for about half the department's budget and includes the National Weather Service and the National Hurricane Center, would move to the Department of Interior.
The department is a repository for "hiding political pet projects, outdated programs, and agencies without a logical home," the campaign said in a statement. "The resulting Franken-agency simply no longer makes sense."
The Ohio governor was the last to enter the crowded Republican primary and has tried to position himself as the most experienced and practical candidate in the field. He was tied for fifth place with Carly Fiorina in New Hampshire according to an Oct. 21 Bloomberg Politics/St. Anselm poll; 7 percent of those polled identified them as their first choice.
Kasich's proposal provides additional detail about a broader plan he announced Oct. 15 to balance the federal budget within eight years, including by downsizing and shifting power and responsibility to states. Eliminating the Commerce Department would be a template, his campaign said.
While the idea of consolidating or closing federal agencies isn't new and was even proposed in 2012 by President Barack Obama, a Democrat, such ideas haven't been accomplished in a gridlocked Washington, Kasich has said.
Under Kasich's plan, the U.S. Patent and Trademark Office would become a standalone agency.
The Commerce Department's international trade functions would be split between the State Department and the International Trade Commission and an economic development grant program would be folded into the Housing and Urban Development agency.
Kasich would combine the Census Bureau and the Bureau of Economic Analysis with the Department of Labor's Bureau of Labor Statistics, merge the Minority Business Development Agency into the Small Business Administration and reduce duplication between the Federal Communications Commission and the National Telecommunication and Information Administration.
The changes would cost more initially because of closing and relocating offices, Kasich said, but would more than recoup those costs over time.
John Kasich, Kasich Campaign Press Release - Bloomberg Politics: Kasich Would Eliminate U.S. Commerce Department, Cabinet Post Online by Gerhard Peters and John T. Woolley, The American Presidency Project https://www.presidency.ucsb.edu/node/312850