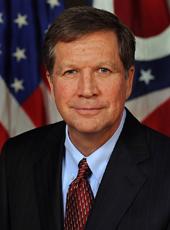 Kasich Campaign Press Release - ASSOCIATED PRESS: Cruz has no realistic path
With things as they currently stand, Ted Cruz will not secure the Republican nomination before the Republican National Convention. Even one-on-one against Trump, the odds for Cruz are insurmountable.
ASSOCIATED PRESS: "[Ted Cruz] has no realistic path to win a majority during the primaries."

WASHINGTON POST: "Cruz would likely need about 90 percent of the remaining delegates to win the nomination, which, barring Trump's abduction by extraterrestrials, is unlikely."
Meanwhile, Donald Trump needs to secure 57 percent of the remaining delegates to obtain a simple majority, something he's yet to be able to accomplish.
With that in mind, a contested convention in Cleveland is looking more and more likely.
FORTUNE: "Governor John Kasich's big primary win in his home state of Ohio on Tuesday night has increased the likelihood that none of the remaining Republican presidential candidates will have the votes necessary to win the nomination going into the Republican National Convention this summer. So, it is looking likely that the delegates at the convention will end up picking the nominee themselves.

In considering a candidate, the delegates will need to choose the person who best represents the views and values of the GOP, as well as someone who could take on and actually stands a chance at beating the Democratic nominee in the general election. While the delegates could technically nominate anyone they want, if they were to focus solely on the remaining candidates, they would be wise to choose Governor John Kasich.

While Governor Kasich will probably enter the convention with the least amount of delegates among the two remaining Republican candidates, Donald Trump and Texas Senator Ted Cruz, he stands head and shoulders above both in terms of experience and electability. Despite his lackluster showing in the primaries, Kasich is the only Republican candidate left in the race who has consistently shown in poll after poll that he can beat Hillary Clinton in the general election—and do it by a healthy margin."
Historically, contested conventions have focused more on electability than delegate counts.
THE FEDERALIST: Six of the GOP's ten brokered conventions have produced a nominee who went on to become president, with five of them winning the popular vote. By contrast, in the ten elections since 1960 in which the GOP was not nominating an incumbent, the Republican nominee has won four times. Whatever one may think of the GOP brokering conventions, their track record in producing winning candidates has been slightly better than the modern system of choosing nominees.
John Kasich, Kasich Campaign Press Release - ASSOCIATED PRESS: Cruz has no realistic path Online by Gerhard Peters and John T. Woolley, The American Presidency Project https://www.presidency.ucsb.edu/node/316964