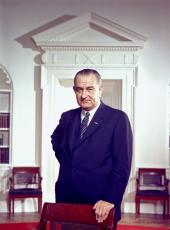 Joint Statement With Prime Minister Pearson on the Campobello Park Agreement.
PRESIDENT Johnson and Prime Minister Pearson signed today in the Treaty Room of the White House an intergovernmental agreement providing for the establishment of the Roosevelt Campobello International Park at the house formerly belonging to President Franklin Delano Roosevelt on Campobello Island, New Brunswick. The President and the Prime Minister recalled the generous offer of the Hammer family, made to President Kennedy and Prime Minister Pearson at Hyannis Port in May 1963, to donate the property to the Governments of Canada and the United States as a memorial to President Roosevelt. President Johnson and Prime Minister Pearson have welcomed the opportunity on this occasion to sign the intergovernmental agreement under which the Roosevelt estate will become an International Park jointly owned and operated by the United States and Canada as a memorial open to the peoples of the two countries and of all the world.
The establishment of the Roosevelt Campobello International Park represents a unique example of international cooperation. The Park will stand forever as an expression of the close relationship between Canada and the United States as well as a fitting memorial to the President of the United States who so greatly strengthened that relationship and who himself spent so many happy days of rest and relaxation on Canadian soil and in Canadian waters. The memorial will celebrate President Roosevelt's love of Campobello Island and of sailing in the deep waters of the Bay of Fundy; his deep sense of the abiding values of conservation and recreation; and the old and friendly relations between the people of the Maritime Provinces of Canada and the people of New England and New York. When Canadians and Americans visit the International Park, they will see a living expression of the historic collaboration between their two countries; while visitors from other parts of the world may find it an inspiration for similar cooperative arrangements along many frontiers across the world.
This intergovernmental agreement has, of course, been drawn up in close consultation with the government of the Province of New Brunswick where the property is located. The agreement will require legislative action in both countries. The President and the Prime Minister hope for speedy enactment of such legislation in order to open the Roosevelt Campobello International Park to the people of both countries at the earliest moment.
Note: For the President's remarks at the signing ceremony, see Item 137. A copy of the agreement was released with the joint statement.
Lyndon B. Johnson, Joint Statement With Prime Minister Pearson on the Campobello Park Agreement. Online by Gerhard Peters and John T. Woolley, The American Presidency Project https://www.presidency.ucsb.edu/node/240210