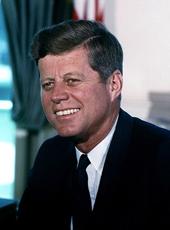 Joint Statement With Prime Minister Macmillan on Nuclear Testing.
A GUARANTEED end to all nuclear testing in all environments is a fundamental objective of the free world. We are deeply convinced that the achievement of this objective would serve our best national interests and the national interests of all the nations of the world.
In recent weeks the United States and the United Kingdom have renewed their efforts It the Geneva Disarmament Conference to reach this goal. Based on the latest scientific findings of our research program, we have put forward proposals in the strong hope of obtaining prompt agreement on this crucial issue.
As a further step in the direction of this long-sought-after goal, the United States and the United Kingdom have instructed their representatives at Geneva to present today to the 18-Nation Disarmament Committee a draft treaty containing proposals for an end to all nuclear testing in all environments as well as an alternative draft treaty providing for an end to nuclear testing in the atmosphere, underwater, and in outer space. We both believe the arrangements we have outlined in these documents for insuring compliance with the terms of the agreement-whether comprehensive or limited--are sound and reasonable providing, as they do, the necessary guarantees for our own security and the security of all nations which might become parties to either agreement. We wish to make clear the strong preference of the United States and the United Kingdom for prompt action on the first of them, namely, the comprehensive treaty. However, we are also prepared to conclude an early agreement on the basis of the second document, that covering a more limited field, if this represents the widest area of agreement possible at this time.
Unlike a ban on testing in all environments, including underground, a treaty banning tests in the atmosphere, underwater and in outer space can be effectively verified without on-site inspections. Such a treaty would result in a definite downward turn in the arms race as it is represented by testing to develop weapons technology. It would make it easier to prevent the spread of nuclear weapons to countries not now possessing them. It would free mankind from the dangers and fear of radioactive fallout. Furthermore, agreement on such a treaty might be a first step toward an agreement banning testing in all environments.
The United States and the United Kingdom cannot emphasize too strongly the urgency we attach to the problem of ending all nuclear testing once and for all. For the safety and security of all of us, this deadly competition must be halted and we, again, urge the Soviet Government to join with us in meaningful action to make this necessity a reality.
Note: The joint statement was released at Newport, R,I.
John F. Kennedy, Joint Statement With Prime Minister Macmillan on Nuclear Testing. Online by Gerhard Peters and John T. Woolley, The American Presidency Project https://www.presidency.ucsb.edu/node/236661