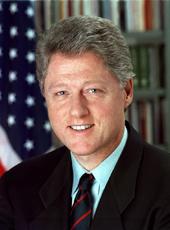 Joint Statement With President Yeltsin on Nuclear Materials Security
Presidents Clinton and Yeltsin noted the importance they attach to ensuring the security of nuclear weapons and nuclear materials, maintaining effective control over them, and combating illegal trafficking in nuclear materials. They underscored their strong support for the efforts underway in the Russian Federation and the United States to achieve these objectives, including the rapidly growing range of cooperative activities being pursued jointly by US and Russian experts. The Presidents noted with satisfaction that bilateral and multilateral cooperation in these areas has grown rapidly over the past year and includes joint activities on law enforcement, customs, intelligence liaison and on-theground cooperation to improve nuclear materials security at ten sites, protecting tons of nuclear material. The Presidents also welcomed cooperative efforts to improve the security of nuclear weapons in transport or storage in connection with their dismantlement.
The two Presidents welcomed the joint report on steps that have been accomplished and additional steps that should be taken to ensure the security of nuclear materials, prepared by the Gore-Chernomyrdin Commission in implementation of the May 10 summit declaration on nonproliferation. This report outlines current and planned U.S.-Russian programs of bilateral cooperation that will result in broad improvements in nuclear materials security, including several important sites with weapons-usable nuclear material, increased security for nuclear weapons in connection with their dismantlement, and construction of a safe and secure long-term storage facility for fissile material from dismantled weapons. The Presidents endorsed speedy implementation of these plans and directed that they be expanded and accelerated to the greatest extent possible.
NOTE: An original was not available for verification of the content of this statement.
William J. Clinton, Joint Statement With President Yeltsin on Nuclear Materials Security Online by Gerhard Peters and John T. Woolley, The American Presidency Project https://www.presidency.ucsb.edu/node/220386