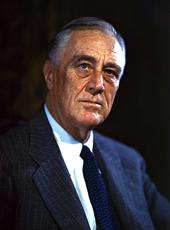 Joint Statement with President Vargas of Brazil.
President of Brazil and the President of the United States met Thursday at an unannounced location in Brazil. The two Presidents had lunch together, inspected and reviewed Army, Navy, and Air Forces of the two Nations. They passed the evening in conference on problems of the World War as a whole and especially the joint Brazilian-United States effort. They discussed the continuing submarine danger from the Caribbean to the South Atlantic. President Vargas announced greatly increased efforts on the part of his country to meet this menace.
President Roosevelt informed his colleague of the very significant results of the conference in Casablanca and of the resolve that the peace to come must not allow the Axis to attack civilization in future years. Mr. Roosevelt demonstrated that the North African expedition has for the present eliminated the possibility of the threat of a German-held Dakar to American freedom at the narrow point of the Atlantic. Both President Vargas and President Roosevelt are in complete agreement that it must be permanently and definitely assured that the coasts of West Africa and Dakar never again under any circumstances be allowed to become a blockade or an invasion threat against the two Americas.
The two Presidents said:
"This meeting has given us an opportunity to survey the future safety of all the Americas. In our opinion each of the Republics is interested and affected to an equal degree. In unity there is strength. It is the aim of Brazil and of the United States to make the Atlantic Ocean safe for all. We are deeply grateful for the almost unanimous help that our neighbors are giving to the great cause of democracy throughout the world."
President Roosevelt believed that the Casablanca Conference was so vital to the war effort that he should delay for a short time his return to the United States so that he might talk informally to President Vargas of Brazil about the conference, and discuss several details of additional mutual aid.
President Roosevelt on his journey to Africa and on his return has had many opportunities to visit and inspect vital points of the "Ferry Command" which is doing a most difficult job every day in sending planes and quantities of vital equipment from America to the Middle East, to North Africa, to Russia, to the air squadrons in China, and to the Burma front.
The Presidents of the two Nations—the United States and Brazil- are old friends and their talks were timely and profitable, in every way.
Franklin D. Roosevelt, Joint Statement with President Vargas of Brazil. Online by Gerhard Peters and John T. Woolley, The American Presidency Project https://www.presidency.ucsb.edu/node/210256