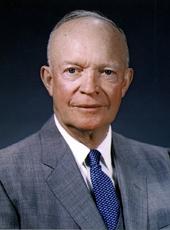 Joint Statement With President de Gaulle and Prime Minister Macmillan Concerning the Summit Conference.
THE PRESIDENT of the United States, the President of the French Republic and the Prime Minister of the United Kingdom take note of the fact that because of the attitude adopted by the Chairman of the Council of Ministers of the Soviet Union it has not been possible to begin, at the Summit Conference, the examination of the problems which it had been agreed would be discussed between the four Chiefs of State or Government.
They regret that these discussions, so important for world peace, could not take place. For their part, they remain unshaken in their conviction that all outstanding international questions should be settled not by the use or threat of force but by peaceful means through negotiation. They themselves remain ready to take part in such negotiations at any suitable time in the future.
Note: Shortly before the release of the joint statement, the Press Secretary issued the following paper:
"The President understands from the invitation of President de Gaulle, the host and chairman, that the meeting which he has called for this afternoon will be a formal session of the Conference at the Summit. In this light, the Conference will address itself to the subjects which had originally been accepted for discussion.
"In accepting this invitation, the President of the United States assumes that acceptance by the Soviet representative of the same invitation to attend this meeting would constitute a withdrawal on his part of the 'conditions' which had already been refused by the President."
On May 18 it was announced that the President, the President of France, and the Prime Minister of Great Britain met for one hour at the Elysee Palace with their Foreign Ministers to hear the ministers report on their discussions that morning concerning the international situation then prevailing. After the meeting the President remained for a farewell visit with President de Gaulle.
The joint statement was released in Paris.
Dwight D. Eisenhower, Joint Statement With President de Gaulle and Prime Minister Macmillan Concerning the Summit Conference. Online by Gerhard Peters and John T. Woolley, The American Presidency Project https://www.presidency.ucsb.edu/node/234447