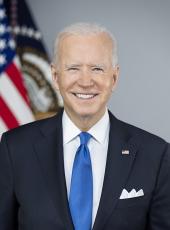 Joint Statement by United States Vice President Joe Biden and European Union High Representative for Common Foreign and Security Policy Javier Solana
As representatives of the United States and the European Union, we visited Sarajevo with a message of support and concern. We support Bosnia and Herzegovina, a single state with two entities. We support the Dayton Accords. We support the aspirations of the people of Bosnia and Herzegovina to join European and Trans-Atlantic institutions. We also support the reforms that will be needed to realize this European future. And we support leaders who have the courage to reach across the ethnic divide to find compromise, build trust, foster stability and bring prosperity to Bosnia and Herzegovina.
We are concerned by statements and actions in recent years that threaten the territorial integrity of Bosnia and Herzegovina, the powers of the state, and the rights of the entities. We are also concerned by economic conditions and note the need for greater fiscal controls, financial accountability and transparency. And we are concerned for the independence of judicial institutions and the rule of law.
This year Bosnia and Herzegovina can take an important step towards NATO and EU membership by completing the five objectives and two conditions set by the Peace Implementation Council for the closure of Office of the High Representative and the transition to the Office of the EU Special Representative. The remaining steps are clear: resolution of the distribution of state property between the state and the entities; resolution of defense property, including destruction of excess weapons, ammunition and explosives; and a positive assessment by the Peace Implementation Committee of the situation in Bosnia and Herzegovina based on compliance with the Dayton Agreement. We will look for progress by June and completion in October. We welcome and applaud High Representative Inzko's leadership in guiding this process.
This transition is just a first step, and much more work will be needed. Movement on the path to EU and NATO membership will bring genuine benefits to the people of Bosnia and Herzegovina. These could eventually include: visa-free travel; increased trade and investments; support for economic development and a prosperous, stable future for BiH, in an integrated Western Balkans region. This will require concerted effort and compromise to achieve needed reform, including a functioning BiH Constitution.
The United States and the EU will support this process of growth and reform. And we look forward to returning to a Bosnia and Herzegovina that is progressing deliberately on the path towards the EU and NATO.
Joseph R. Biden, Joint Statement by United States Vice President Joe Biden and European Union High Representative for Common Foreign and Security Policy Javier Solana Online by Gerhard Peters and John T. Woolley, The American Presidency Project https://www.presidency.ucsb.edu/node/321288