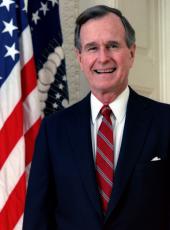 Joint Statement of the United States and Malta on the President's Meeting With Prime Minister Eddie Fenech Adami in Valletta
At their meeting in Malta on Friday, 1 December 1989, the Prime Minister of Malta, Edward Fenech-Adami, and the President of the United States, George Bush, hoped that the discussions in Malta on 2 - 3 December 1989 between President Bush and the Soviet Leader, President Gorbachev, would promote an era of global peace and security as well as advance the cause of freedom and democracy throughout the world.
The Prime Minister expressed, on behalf of the Maltese nation, extreme pride and satisfaction that President Bush and President Gorbachev had agreed to hold their historic meeting in the Maltese harbour.
In the context of an exchange of views on international issues, President Bush and the Prime Minister welcomed the momentous events in Eastern Europe and agreed on the importance of the arms control negotiations currently underway.
The Prime Minister and the President expressed particular satisfaction that relations between Malta and the United States, historically friendly, had been strengthened in recent years and were presently very close.
The President praised the respect in which democratic practices were held in Malta as well as Malta's active involvement in international environmental issues. In support of Malta's economic development, OPIC and the Commerce Department will bring Malta's investment opportunities to the attention of potential American investors. The President looked forward to the reintroduction of Peace Corps volunteers into Malta.
The Prime Minister expressed gratitude for the technical cooperation already extended in the educational and training programs for officers of the Maltese armed forces and to government officials involved in the war against drug trafficking and other forms of illicit trade. The President appreciated the efforts by the Maltese authorities to strengthen Malta's maritime patrol capabilities, particularly in and around Malta's waters, and to this end, supported the provision of U.S. help and cooperation.
The President expressed thanks to the Prime Minister of the full cooperation extended by the Government of Malta in the preparations made with regard to his meeting with the Soviet President.
Note: The President met with Prime Minister Fenech Adami at 10:35 a.m. at l'Auberge de Castille.
George Bush, Joint Statement of the United States and Malta on the President's Meeting With Prime Minister Eddie Fenech Adami in Valletta Online by Gerhard Peters and John T. Woolley, The American Presidency Project https://www.presidency.ucsb.edu/node/263953