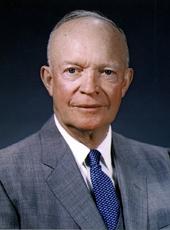 Joint Statement of the President and President Kubitschek of Brazil.
THE PRESIDENTS of the United States of Brazil and of the United States of America, Juscelino Kubitschek de Oliveira and Dwight D. Eisenhower, meeting together in the new city of Brasilia, soon to be the capital of Brazil, reaffirm the joint determination of the two nations to defend the following principles:
1. The democratic freedoms and the fundamental rights of man, wherein are included the right against racial discrimination and the repudiation of any attempt against religious freedom and of any limitation on the expression of thought. These are inalienable conquests of civilization which all free men have the duty to protect, bearing in mind the sacrifices of the soldiers of both countries in the last war, and the need to prevent repetition of the causes which led to the loss of so many young and precious lives.
2. The belief that the aspiration of the peoples of the Americas to an ever-improving way of life, moral and material, presents one of the great challenges and opportunities of our time. This challenge should be met by joining together, ever more closely and harmoniously, the efforts of all countries within the inter-American community in order that, through coordinated action, there may be an intensification of measures capable of combating underdevelopment in the vast area of the American continents.
3. The full implementation of the principles of political and economic solidarity contained in the Charter of the Organization of American States and in the Mutual Assistance Treaty of Rio de Janeiro.
4. The recognition that economic advancement cannot be disassociated from preservation of peace and democratic rights, and that the effort of each nation must be complemented by hemisphere action helping all Americans to achieve the improved living standards which will fortify belief in democracy, freedom and self-determination of peoples. To this end, the Presidents reaffirm their solidarity with the principles approved by all the nations of America within the scope of Operation Pan America and assure their wholehearted support to the Organization of American States and to those other entities which already are formulating measures to help achieve these ends. This will pave the way to the realization of the inter-American ideals, economic as well as political.
Acknowledging that joint efforts of the American nations have already achieved much, but firm in the conviction that action still more fruitful should be taken, the two Presidents are confident that the hemispheric crusade for economic development will lead toward greater prosperity and harmony for all.
Note: This statement, released at Brasilia, was read by Secretary of State Christian A. Herter and Foreign Minister Horacio Lafer at the site of the monument commemorating President Eisenhower's visit to Brasilia.
Dwight D. Eisenhower, Joint Statement of the President and President Kubitschek of Brazil. Online by Gerhard Peters and John T. Woolley, The American Presidency Project https://www.presidency.ucsb.edu/node/234991