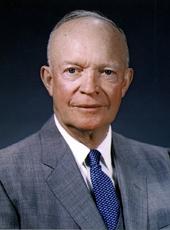 Joint Statement by the President and President-Elect Kennedy.
THE PRESIDENT of the United States of America and the President-elect conferred today at the White House.
They first met alone in the President's office and then were joined in the Cabinet Room by the Secretaries of State, Defense and Treasury. Also attending this latter meeting were The Assistant to the President and Mr. Clark Clifford, who have been acting as representatives of their two principals during the post-election period.
At the conclusion of the discussions the President and the President-elect agreed to the following statement:
We have had an informal personal meeting on continuing problems, particularly in the international arena, that confront and will continue to confront the Chief Executive of our nation.
The discussions, later joined in by the three Secretaries, covered such foreign affairs matters as major problems of peace, security, and freedom throughout the world, particularly including the American balance of payments and the position of the American dollar; and such domestic matters as the operation of certain aspects of the Executive Branch of the Government, including those related to our national security, as well as the manner in which the White House staff machinery has assisted the President in his Executive responsibilities.
There was of course full understanding that under the Constitution the President of the United States maintains sole jurisdiction for the conduct of the Government until his successor is inaugurated. The meetings, however, were extremely informative in nature. Thus, we feel that we were able in our discussions to provide a better foundation for our representatives who are working on the necessary orderly transfer of Executive responsibility from one Administration to another. The progress to date of this work has been most satisfactory.
We believe that through such orderly processes the continuity of Government affairs will be assured and our people will continue to demonstrate that they are united in the nation's leadership toward peace.
We reaffirm the historic American position that this nation does not covet the territory of any people nor does it seek to dominate or control any other nation.
The American people and their government have consistently sought to protect freedom and have tried to help people throughout the world better their standards of living. These national objectives will be vigorously pursued by the incoming Administration.
The Government of the United States has and will continue to seek peace with justice in freedom for all peoples.
Dwight D. Eisenhower, Joint Statement by the President and President-Elect Kennedy. Online by Gerhard Peters and John T. Woolley, The American Presidency Project https://www.presidency.ucsb.edu/node/234627