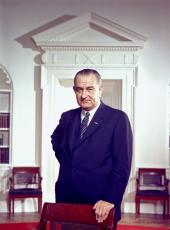 Joint Statement Following Discussions With the Shah of Iran.
THE SHAHANSHAH and the President met on June 12 and discussed topics of mutual interest to their two countries. Their talks were conducted in the spirit of close friendship and cooperation that marks Iranian-US relations and the personal associations of His Majesty and the President. The President congratulated the Shahanshah on the continuing impressive pace of Iran's economic and social development.
The President informed His Majesty of the course of talks now occurring in Paris, and both leaders expressed hope that these discussions would lead to an early and durable peace in Southeast Asia.
They discussed the situation in the Middle East and agreed that the peaceful development of the area could be accomplished only through respect for the sovereignty of Middle Eastern states and cooperation among the states of the region for their security and independence. Both leaders expressed their intention of continuing to support efforts made through the United Nations to reduce tensions in the area, reaffirming their support for a just and lasting peace based on the resolution adopted by the Security Council of the United Nations on November 22, 1967.
The Shahanshah reaffirmed Iran's determination to sustain an adequate modern defense force to ensure Iran's national security, and the President expressed the desire of the United States to continue cooperating with Iran to this end.
Of special interest to the Shahanshah and the President was a recent exchange of letters between the two governments in which it was agreed to initiate a program of scientific cooperation in areas of mutual interest. This program is expected to increase the exchange of personnel between the two countries, facilitate the transfer of scientific and technical information and stimulate collaborative research projects between Iranian and American scientists. It was decided that in Iran the Executive agency for implementation of this agreement will be the Ministry of Science and Higher Education, and for the United States the Smithsonian Institution.
His Majesty expressed to the President his profound sorrow over the death of Senator Robert F. Kennedy.
The Shahanshah in taking leave of the President expressed his appreciation for the warm and friendly reception accorded him. Both the Shahanshah and the President agreed that the considerations which have motivated Iranian and American cooperation are today more pertinent than ever.
Lyndon B. Johnson, Joint Statement Following Discussions With the Shah of Iran. Online by Gerhard Peters and John T. Woolley, The American Presidency Project https://www.presidency.ucsb.edu/node/237101