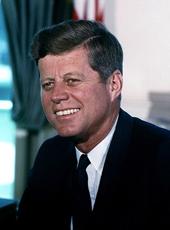 Joint Statement following Discussions With the Shah of Iran.
THE PRESIDENT and His Imperial Majesty have had a cordial and useful exchange of views during the past three days. The visit afforded an opportunity for the President and the Shah to become acquainted personally and to discuss matters of mutual interest to their countries.
Their talks included a review of political and military situations in the world; a discussion of the progress which Iran is making in economic and social advancement; a review of defense arrangements in which the two countries are associated; and aspects of United States economic and military aid programs in Iran.
Secretary of State Dean Rusk, Secretary of Defense Robert S. McNamara and Iranian foreign Minister Abbas Aram also participated in the talks.
His Imperial Majesty described the form and goals of the Third Iranian Economic Development Plan, which is scheduled to start later this year. The President and His Imperial Majesty agreed on the necessity for further acceleration of economic development in Iran, and on the need for continued external assistance to Iran to enable that country to pursue the goals of its economic development plans.
They discussed and were in complete agreement on the subject of the nature of the threat to the Middle East and to all free peoples. They reaffirmed the provisions of the bilateral agreement of 1959 concerning the maintenance of the independence and territorial integrity of Iran, and agreed on the necessity of collective security arrangements to achieve this end. They also agreed on the necessity of achieving a high level of internal economic development and social welfare in order to continue the internal stability necessary to resist external threats.
The friendly and extensive exchange of views between the President and His Imperial Majesty has been consonant with the close relationship between the two countries and has strengthened the bonds of friendship between them in their quest for common objectives of peace and well-being.
In taking leave of the President, His Imperial Majesty expressed his thanks for the friendly reception accorded him in the United States. Both the President and His Imperial Majesty were gratified by their fruitful discussions and by the spirit of cooperative understanding which marked those discussions.
John F. Kennedy, Joint Statement following Discussions With the Shah of Iran. Online by Gerhard Peters and John T. Woolley, The American Presidency Project https://www.presidency.ucsb.edu/node/236414