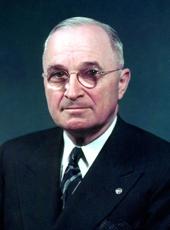 Joint Statement Following Discussions With the Prime Minister of Italy.
PRESIDENT TRUMAN and Prime Minister De Gasperi met at the White House on Tuesday, September 25. The meeting was devoted to an exchange of views on the present international situation and on matters of mutual concern to Italy and the United States.
The President and the Prime Minister agreed on the importance of continuing the joint effort of the free nations united in the North Atlantic Treaty Organization to the preservation of world peace. Each reaffirmed the conviction of his Government that the free nations must be strong in order to make the world safe from aggression. Prime Minister De Gasperi reaffirmed that the Italian people are fully determined to continue their efforts for the common cause. He described Italy's particular need to strengthen its economic position as part of its general defense effort. President Truman assured the Prime Minister that the United States, as in the past, will continue to assist Italy and the other Allies in achieving economic and social stability and in increasing their capacity for defense. He agreed with Mr. De Gasperi that the defense of Europe is vital to the preservation of the free world.
Mr. De Gasperi referred to the contradictions between the spirit of the Italian Peace Treaty and Italy's present position as an equal member of the community of free nations. He informed the President of the legitimate desire of the Italian people that these contradictions be removed. The Prime Minister also expressed satisfaction at the opportunity he has had to exchange views on the question with the Secretary of State, as well as with the British and French Foreign Ministers. The President assured the Prime Minister that the United States Government is determined that the situation he had described be corrected in a spirit of equity and friendship. He expressed confidence that the consideration now being given to this matter would be satisfactorily concluded.
The Prime Minister stressed and the President recognized the importance to the Italian people of the Trieste question, in regard to which the policies of both governments are well known. The question was fully taken into consideration.
Mr. De Gasperi emphasized to the President the seriousness of the problem of overpopulation in Italy and informed him of the Italian Government's efforts toward finding international solutions to the related problem of resettlement. The President assured the Prime Minister that the United States fully recognizes the urgency of reaching international agreements which will help alleviate distress in over-populated countries such as Italy and contribute to the development of other areas.
The President and the Prime Minister each expressed gratification at the opportunity given by the latter's visit to reaffirm the friendship and identity of views of the two nations. They stated the determination of their respective governments to continue to work for a peace based on the principles of the United Nations Charter, to which each is dedicated.
Note: See also Items 231, 235.
Harry S Truman, Joint Statement Following Discussions With the Prime Minister of Italy. Online by Gerhard Peters and John T. Woolley, The American Presidency Project https://www.presidency.ucsb.edu/node/230827