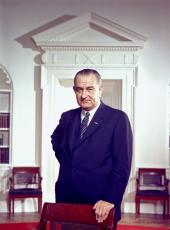 Joint Statement Following Discussions With the Prime Minister of Iran.
AT THE INVITATION of President Johnson, His Excellency Amir Abbas Hoveyda, Prime Minister of Iran, is making an official visit to the United States during December of 1968. The President and the Prime Minister met at noon on December 5, and their talks provided an occasion to review relations between their two governments and to discuss national and world events of mutual interest.
The President and the Prime Minister recalled the close ties of long standing which have existed between Iran and the United States. They agreed that the shared interests and purposes which brought these ties into being still prevail, and that there is more reason than ever for maintaining the closeness of their countries' relationship. The president assured the Prime Minister of his personal belief that the reasons for these ties would be manifest to his successor and that his successor would wish to maintain them.
The President and the Prime Minister reviewed the progress of a number of specific bilateral programs in existence between the two countries: cooperation for the civil uses of atomic energy; cooperation for the study and exploitation of Iran's water resources; cooperation in scientific and technological exchanges. The two leaders agreed to pursue their efforts in these fields. They agreed that private business can play an important role in strengthening the ties between the two nations. The Prime Minister spoke of Iran's determination to sustain an adequate modern defense force to ensure national security, and the President expressed the desire of the United States to continue cooperating with Iran to this end.
The President and the Prime Minister also discussed international affairs. The President described for the Prime Minister the ways in which the United States seeks to bring peace to Southeast Asia, and Prime Minister Hoveyda maintained Iran's understanding and sympathy for these efforts. In another area crucial to world peace, they reviewed efforts to bring about a settlement in the Near East between Arabs and Israelis, and they agreed that Iran and the United States should continue to give all possible support to the efforts of Ambassador Gunnar Jarring to bring about a just and lasting peace in accordance with the United Nations Security Council resolution of November 22, 1967.
The President and the Prime Minister also discussed the emerging situation in the Persian Gulf. They agreed that the stable and prosperous future of that area can best be assured through the cooperation of the powers bordering in the Gulf.
Lyndon B. Johnson, Joint Statement Following Discussions With the Prime Minister of Iran. Online by Gerhard Peters and John T. Woolley, The American Presidency Project https://www.presidency.ucsb.edu/node/236559