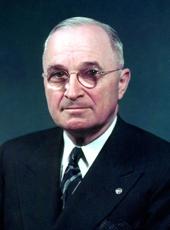 Joint Statement Following Discussions With the President of the Philippines.
THE PRESIDENT of the Republic of the Philippines and the President of the United States of America have met in Washington and have discussed at length problems of common interest to the two nations. The spirit of these conversations has reflected the historic and unique relationship between the two countries. As in the past it was the aim of the United States that the Philippines should assume its rightful position as a free and self-reliant member of the world community, so today the United States looks forward to the preservation and strengthening of the position the Philippine Republic has achieved in order that it may make its full contribution to that community.
It is recognized that the capacity of the Philippine Republic to live up to the high hopes which events of the past three years have kindled must depend in part upon its economic situation. The two Presidents have discussed measures for the reinforcement and development of Philippine economy in terms of the recommendations of the report of the Joint Philippine-American Finance Commission issued in 1947, being convinced that the economic progress of the Philippines will be not only in the immediate interests of the two countries but will contribute vitally to the determination of free peoples to resist those forces which seek their enslavement so long as that menace shall threaten. The two Presidents are agreed that this resistance will be most effective in areas where the material well-being of the people allows a full appreciation of the meaning of freedom, and that conversely it is among peoples who have abandoned hope of individual betterment that the least resistance will be offered to those perverted forces which would destroy the ideals to which the two nations are dedicated.
The President of the Philippines has expressed the determination of his country to pursue with vigor the courses of action which offer the greatest promise; the President of the United States has reiterated the desire and intention of the United States to render all feasible assistance. The United States will continue to watch sympathetically the efforts of the peoples of Asia to forge stronger ties of economic cooperation and collaboration, to hasten the progress of self-government, and to preserve their freedom.
Harry S. Truman, Joint Statement Following Discussions With the President of the Philippines. Online by Gerhard Peters and John T. Woolley, The American Presidency Project https://www.presidency.ucsb.edu/node/229840