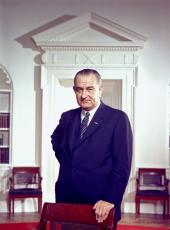 Joint Statement Following Discussions With the President of Korea.
1. AT THE invitation of President Lyndon B. Johnson of the United States, President Chung Hee Park of the Republic of Korea arrived in Washington on May 17, 1965, for a 10-day state visit to the United States, and met with President Johnson on May 17 and 18 to exchange views on the current international situation and matters of common interest to their countries. Deputy Prime Minister Key Young Chang, Acting Foreign Minister Duk Choo Moon, Defense Minister Sung Eun Kim, Secretary of State Dean Rusk, Secretary of Defense Robert McNamara, and other high officials of both Governments participated in the meetings.
2. President Park and President Johnson reaffirmed the strong bonds of friendship traditionally existing between the Republic of Korea and the United States and their firm determination to maintain the closest cooperation in the pursuit of their common objective of a secure and lasting peace based on freedom, justice, and prosperity for all.
3. The two Presidents reviewed the current situation in the Far East and southeast Asia and agreed upon the need for making secure the freedom and independence of the countries of the area. They affirmed that the free nations should further strengthen their solidarity and cooperation to advance the cause of peace and progress under freedom.
4. President Johnson noted with deep. appreciation the contribution of the Republic of Korea towards the defense of Viet-Nam. The two Presidents reaffirmed their intention to continue to cooperate closely in support of the Republic of Viet-Nam.
5. The two Presidents reviewed the vital importance of mutual defense ties between the Republic of Korea and the United States. President Johnson reaffirmed the determination and readiness of the United States to render forthwith and effectively all possible assistance including the use of armed forces, in accordance with the Mutual Defense Treaty of 1954, to meet the common danger occasioned by an armed attack on the Republic of Korea. He said that the United States will continue to maintain powerful forces in Korea at the request of the Korean Government, and will assist in maintaining Korean forces at levels sufficient, in conjunction with U.S. forces, to ensure Korea's security. Subject to applicable legislation and appropriations, military assistance to preserve the Korean forces' effectiveness will continue to be provided, and a large part of the local currency (won) funds generated by U.S. assistance will continue to be made available to the Korean defense effort. In addition, the Military Assistance Transfer Program has recently been revised to enable the Korean Government to realize a saving in foreign exchange. It was agreed that the program should be reviewed each year in light of the condition of the Korean economy.
6. The two Presidents took cognizance of the ardent desire of the Korean people for the reunification of their homeland and deplored the fact that the Communists have persisted in their refusal to accept established United Nations objectives and principles for the unification of Korea through free elections under United Nations supervision, thus prolonging the artificial division of Korea. Both Presidents reaffirmed that they would continue to make the utmost efforts to bring about a unified, free, and democratic Korea in accordance with the objectives and principles set forth in the United Nations resolutions on Korea.
7. President Park reviewed the negotiations between Korea and Japan for an agreement to establish normal relations, the components of which have already been initialled and are now being drawn up in treaty form. President Johnson praised this achievement and expressed the expectation that this agreement, when completed, would strengthen the free nations of Asia as well as further the mutual interests of the two countries immediately involved. He confirmed that U.S. military and economic assistance to Korea would continue to be extended, as set forth in paragraph 9 below, after normalization of Korean-Japanese relations.
8. President Park explained the situation and prospects of the Korean economy. President Johnson congratulated President Park on the progress made by the Korean Government and people towards stabilization and development of their economy. He noted Korea's impressive increases in exports and in industrial and agricultural production, and its investment in programs of social progress. President Park reviewed the Korean Government's economic development programs, under which the Government is pursuing its goals of food self-sufficiency, greater exports, accelerated industrialization, increased national savings, and continued financial stabilization, so as to increase national income and assist the nation in attaining its long-range goal of a self-sustaining economy.
9. President Johnson reaffirmed assurances previously stated by Secretary of State Rusk and other United States officials that the basic policy of the United States Government of extending military and economic aid to Korea would be continued. In addition to assistance directed toward maintaining Korea's security and independence, he stated that the United States would continue to assist Korea toward promoting a self-sup porting economy, balanced economic growth, and financial stability. He specifically stated that it is the intention of the United States Government, subject to applicable legislation, appropriations, and aid policies, to help Korean efforts to achieve stable economic growth by:
A. Continuing supporting assistance as appropriate to assist in financing Korea's essential imports in connection with programs agreed upon as required for Korea's economic stability.
B. Making available to Korea $ 150 million in development loan funds for programs and projects to be proposed by the Korean Government and to be agreed to by the United States Government. These funds will be made available as rapidly as possible as the Korean Government develops and presents acceptable programs and projects. After the use of these funds, it is anticipated that further development loan monies would be made available. President Johnson pointed out that these programs of long-term lending at low interest rates respond to the expanding investment requirements of the Korean economy. Such development loan funds would be made available in accordance with legislation and joint economic judgments, to finance such import programs as may be agreed and projects which will expand power resources and social overhead capital, increase efficiency and consequently output in agriculture and fisheries, and further technical and industrial development-small, medium, and large--benefiting all segments of the population and promoting balanced economic growth.
C. Continuing technical assistance and training.
D. Providing substantial assistance in agricultural commodities under the Food for Peace program, especially cotton and food grains; continuing to provide Food for Peace donations for development projects and for relief of unemployment and poverty.
10. The two Presidents agreed that this long-term United States economic aid to Korea, coupled with Korea's own efforts and resources that might be expected from other sources, should assure the Korean people of ever-widening opportunities for economic growth and for fruitful participation in world economic relationships.
11. President Park emphasized that the achievement of a self-supporting economy in Korea depends greatly upon its ability further to expand trade with other countries and requested the continued cooperation of the United States in expanding the export of Korean products and commodities and in providing Korea with continuing opportunities to participate in procurements funded through United States assistance programs. President Johnson expressed his understanding of the importance to Korea of expanded exports and indicated that the United States would continue to cooperate with Korea in efforts to improve Korea's foreign trade position.
12. The two Presidents, recalling their respective earlier careers as school teachers, discussed together the needs, challenges, and opportunities of education at all levels in both countries. President Park welcomed President Johnson's offer to send his Science Adviser to Korea for the purpose of exploring with industrial, scientific, and education leaders possibilities for U.S. cooperation in establishing there an Institute for Industrial Technology and Applied Science. It was President Johnson's thought that the Institute and its laboratories could both provide technical services and research for developing Korean industry and afford advanced Korean specialists trained in the United States opportunities to continue their research.
13. In the course of President Park's visit to Washington agreement was reached in principle on major issues of a status of forces agreement. Therefore it is expected that remaining issues will be resolved so that a status of forces agreement can be concluded in the near future.
14. President Park extended a cordial invitation to President Johnson to visit Korea at his earliest convenience. President Johnson expressed his desire to visit Korea. Both Presidents expressed their desire to maintain close personal contact to continue to serve the cause of freedom and peace.
Lyndon B. Johnson, Joint Statement Following Discussions With the President of Korea. Online by Gerhard Peters and John T. Woolley, The American Presidency Project https://www.presidency.ucsb.edu/node/241500