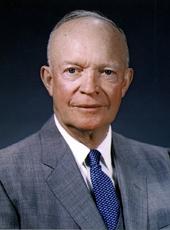 Joint Statement Following Discussions With the President of Guinea.
UPON the conclusion of the visit to Washington of His Excellency Sekou Toure, President of the Republic of Guinea, the Governments of Guinea and the United States wish to set forth the following results of the conversations that took place between President Toure and his party, and President Eisenhower, Secretary Herter, and other officials of the United States Government:
1. The conversations took place in an atmosphere of cordial frankness and mutual understanding. President Toure expressed the hopes of the peoples of Africa for self-determination, economic and social development. Representatives of the United States indicated their understanding of these hopes and their desire to be of assistance wherever appropriate.
2. A Cultural Agreement between the two countries was agreed upon during the course of the conversations and was signed at 9:45 A.M., October 28th. It is the sincere hope of both Governments that this agreement will serve to increase understanding of each country and people by the other and form the nucleus of a lasting friendship.
3. The Government of the United States has decided, after the signature of a Technical Assistance Agreement, now under study, to put at the disposition of the Government of Guinea 150 scholarships for the training of Guinean students in the United States or elsewhere.
4. The facilities of the Export-Import Bank and the Development Loan Fund for specific development projects were called to the attention of the Government of Guinea.
5. The two Governments agreed to study the desirability of negotiating in the immediate future a commercial agreement as well as an investment guaranty agreement. As an initial step in developing closer commercial relations the Government of Guinea has agreed to receive a United States trade mission in the near future.
6. Representatives of the two Governments exchanged views on the growing importance of the African continent in the world of today. They were in agreement that Africa's requirements and hopes should command the serious attention of the rest of the world, particularly the great powers.
Note: The text of the Cultural Agreement is published in the Department of State Bulletin (vol. 41, p.722).
Dwight D. Eisenhower, Joint Statement Following Discussions With the President of Guinea. Online by Gerhard Peters and John T. Woolley, The American Presidency Project https://www.presidency.ucsb.edu/node/234529