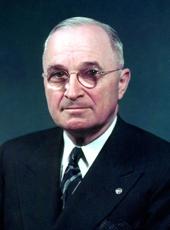 Joint Statement Following Discussions With the President of Ecuador.
THE PRESIDENT of the Republic of Ecuador and the President of the United States of America have met in Washington, D.C., and have reaffirmed their determination to continue their support of the efforts of the United Nations to reestablish peace in the world. They will remain steadfastly united in the present emergency. The two nations solemnly declare their attachment to the principles set forth in the Charters of the United Nations and of the Organization of American States and in other international agreements to maintain peace and security. They intend to defend themselves against aggression, to settle their disputes by peaceful means, improve the living standards of their peoples, promote their cultural and economic progress, and ensure respect for the fundamental freedoms of man and the principles of social justice that are the bases of their democratic systems.
President Plaza expressed the desire of his Government to cooperate closely with the United States and other free nations in the adoption of measures for increasing the production and processing of basic and strategic materials for the defense emergency. At the same time, he also emphasized the need to strengthen the economy of his country, and the two Presidents discussed ways in which the United States might be of assistance.
In recognition of the importance of Ecuadoran plans for fuller economic development, it has been agreed to make joint studies of the economic potentialities of Ecuador and the most effective means for furthering the fuller use of Ecuadoran resources to accelerate its economic and social progress.
President Plaza expressed his recognition of the value of the Point IV technical cooperation now in progress in the fields of agriculture, health, sanitation, education, transportation, and related fields and his gratification that the United States is prepared sympathetically to consider further requests for technical assistance from the Government of Ecuador.
In the cultural field, it has also been agreed to enter upon the negotiation at an early date of a cultural convention between Ecuador and the United States to improve and broaden the cultural relations between the two countries. Such a convention would encourage and further stimulate the present cultural exchange between Ecuador and the United States.
Harry S Truman, Joint Statement Following Discussions With the President of Ecuador. Online by Gerhard Peters and John T. Woolley, The American Presidency Project https://www.presidency.ucsb.edu/node/230210