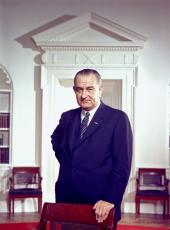 Joint Statement Following Discussions With the President of Costa Rica.
THE PRESIDENT of Costa Rica, Francisco Orlich, and President Johnson, have concluded friendly discussions on matters of mutual concern.
The two Presidents discussed the Alliance for Progress and the contribution it is making toward the economic and social development of the Hemisphere. They expressed their satisfaction with its achievements in Central America and the Hemisphere since President Kennedy's visit to San Jose, and reaffirmed their faith in the goals of the Alliance. They noted especially the intimate relationship which exists between the practice of effective representative democracy and the achievement of social and economic progress, and they renewed their determination to encourage democratic ideals throughout the Hemisphere. President Johnson expressed his admiration for the leadership which Costa Rican people have given over the years, by their example, to the accomplishment of this objective.
President Orlich reviewed the efforts of the Central American countries to promote their economic well-being through the Central American Common Market. President Johnson expressed gratification that these efforts had already made a significant contribution to the economic development of Central America. The two Presidents discussed the participation of private enterprise in the Central American Common Market, and the fundamental importance of cooperation between the public and private sectors in creating sound and healthy conditions in which each can make its most effective contribution. They agreed that a responsible and vigorous private sector is an essential element of a free and democratic society, and is indispensable to the success of the Central American Common Market and the Alliance for Progress.
President Orlich outlined the economic situation in his country, and expressed appreciation for the understanding and friendly cooperation of the United States. He gave special praise to the United States Navy Seabees, who are cooperating with Costa Rica to relieve flood conditions, which have been seriously aggravated by the eruption of Irazu Volcano. President Johnson assured President Orlich of the continued and sympathetic cooperation of the United States in the present natural disaster afflicting Costa Rica, and of the desire of the United States to help Costa Rica achieve further economic and social progress in keeping with the Charter of Punta del Este.
The Presidents noted the continued efforts of subversive agents trained in Cuba and other Communist countries to create unrest and undermine democratic governments in Latin America. They agreed that each country must adopt effective measures to defend itself against such activities, and that the Organization of American States should take meaningful steps to demonstrate the collective will of the American Republics to resist such aggression.
The Presidents concluded their talks by expressing satisfaction that relations between their two countries had reached a high level of mutual understanding and respect. They pledged themselves to continued cooperation within the Organization of American States to achieve the objectives of the Alliance for Progress.
Lyndon B. Johnson, Joint Statement Following Discussions With the President of Costa Rica. Online by Gerhard Peters and John T. Woolley, The American Presidency Project https://www.presidency.ucsb.edu/node/239072