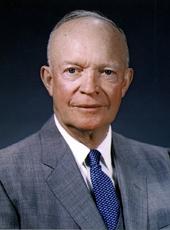 Joint Statement Following Discussions With the King of Morocco.
THE MEETING between the President and His Majesty took place on December 22, 1959, at Casablanca, and lasted from 1500 to 1700, and took place in an atmosphere of cordiality which is characteristic of the relations which arise from the traditional friendship which has never ceased to exist between the United States of America since the proclamation of their independence and their recognition by the Kingdom of Morocco.
In the course of this interview the two Chiefs of State first of all examined the world situation and the problems which arise therefrom.
They rejoice in the relaxation of international tensions and while reaffirming their faith in the great values of the freedom of peoples and the dignity of men, they feel that any initiative of a nature to lead to the consolidation of peace and ensure international cooperation, should be encouraged.
His Majesty drew President Eisenhower's attention to the multiple bonds which unite Morocco to the other Arab countries and make it sensitive to everything which affects them.
His Majesty emphasized the vital importance to Morocco of the end of the war in Algeria, in view of the profound repercussions which this has on the national life of Morocco and its international relations.
The two Chiefs of State noted with great satisfaction the positive character of the political evolution of the Algerian problem, and rejoice in the progress accomplished towards a peaceful solution of this problem through the acceptance by the interested parties of the principle of self-determination and recourse to consultation.
His Majesty the King of Morocco and the President of the United States have welcomed the opportunity provided by the President's brief visit to Morocco to renew their warm personal friendship and, within the time available, review questions of interest to them. Their exchange of views strengthened their already deep confidence in the possibilities of fruitful cooperation between nations such as Morocco and the United States, sharing common goals of peace and justice among men and guided by the same basic principles of national conduct. This was specifically revealed in their discussions of the withdrawal of United States forces from Morocco, and they were greatly encouraged by the progress that has been made since His Majesty's visit to Washington in 1957.
Preliminary preparations for the departure of United States forces from Morocco will begin in the immediate future, and it is agreed between His Majesty the King of Morocco and the President of the United States of America that United States forces will be withdrawn by the end of 1963. In this connection, immediate steps will be taken to release the airfield at Ben Slimane (Boulhaut). This will be achieved not later than March 31, 1960.
Note: This joint statement was released in Casablanca.
Dwight D. Eisenhower, Joint Statement Following Discussions With the King of Morocco. Online by Gerhard Peters and John T. Woolley, The American Presidency Project https://www.presidency.ucsb.edu/node/235174