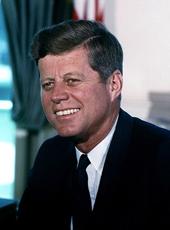 Joint Statement Following Discussions With the King of Laos.
HIS MAJESTY Sri Savang Vatthana, King of Laos, has conferred with the President on recent developments in Laos, particularly the implementation of the Geneva Accord, and on the future of Lao-American relations.
His Majesty warmly thanked the President for United States efforts in bringing the Geneva negotiations on Laos to a successful conclusion. His Majesty also expressed his gratification that the United States has given its full support to the Government of National Union under Prince Souvanna Phouma, and that it will continue faithfully to adhere to its engagements under the Geneva Agreements. The United States policy in Laos, His Majesty said, was a significant manifestation of the President's continuing efforts to help bring peace, freedom and dignity to all peoples. In discussing the future, His Majesty stressed his desire for unity, peace and independence for his people and reiterated the determination of his country to support the Geneva Agreements.
Recalling the agreement that he and Prime Minister Khrushchev made in Vienna in June 1961 for the mutual support of a neutral and independent Laos under a government chosen by the Lao themselves, and of international agreements for insuring that neutrality and independence, the President reaffirmed the United States policy of fulfilling its obligations under the Geneva Agreements and supporting the Government of National Union. The President spoke of his earnest hope that this policy would enable the Lao people to achieve their aspiration for peace, dignity and freedom, and specifically cited the large United States economic assistance program as evidence of the determination of the United States Government to help the Lao people achieve these objectives. Respect for Lao neutrality, independence and sovereignty, the President said, is the continuing basis for United States policy toward the Royal Lao Government.
John F. Kennedy, Joint Statement Following Discussions With the King of Laos. Online by Gerhard Peters and John T. Woolley, The American Presidency Project https://www.presidency.ucsb.edu/node/237035