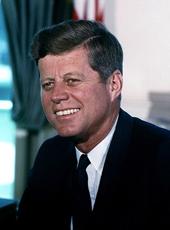 Joint Statement following Discussions With Prime Minister Gerhardsen of Norway.
THE PRIME MINISTER of Norway and Mrs. Einar Gerhardsen are in the United States as the guests of President and Mrs. Kennedy. Following their visit in Washington, they will continue on to Florida and New York. The President and the Prime Minister met twice for substantive discussions during the visit and exchanged views on current international developments. The Norwegian visitors were entertained at a White House luncheon on May 9, and on May 10 they gave a reception at Blair House in honor of President and Mrs. Kennedy.
President Kennedy paid tribute to the many common ties and democratic ideals Norway and the United States share. He referred to Norway's vital role in Northern Europe, expressing appreciation for Norwegian contributions to the Atlantic Community in general. Noting Norway's recent decision to apply for negotiations with a view to full membership in the Common Market, the President stated his belief that a small but dynamic nation can play an important role in the European integration movement. He recalled that Norway has received international recognition for its solid work in the United Nations.
Prime Minister Gerhardsen expressed his appreciation for the bonds of friendship and alliance which have long characterized relations between Norway and the United States. He asserted that Norwegian foreign policy stresses strong support of the United Nations, membership in NATO, and Nordic cooperation.
The President and the Prime Minister agreed it was essential for both countries to back the United Nations as firmly as ever, and reaffirmed their determination to give unstinting support to the NATO Alliance. It is imperative, they recognized, for the West to maintain a position of strength and to stand fast in face of outside provocations or pressures. This is a prerequisite for a peaceful solution of conflicts through negotiations. They also reviewed the dynamic political and economic developments in Europe and the problems which arise for other countries in their relationship with the Common Market. The President and the Prime Minister emphasized the importance of extending aid to the developing nations, and discussed American, and growing Norwegian and joint Scandinavian efforts in this field. There was a valuable exchange of views of shipping matters affecting both countries. The principals agreed that current exchanges of students, teachers, leaders in various fields, and cultural, sport and artistic presentations should be fostered.
President Kennedy and Prime Minister Gerhardsen expressed their fervent hopes that peace and justice would prevail in the world. To this end they felt that all nations, large and small, and all responsible individuals, national leaders and ordinary citizens, should work together.
John F. Kennedy, Joint Statement following Discussions With Prime Minister Gerhardsen of Norway. Online by Gerhard Peters and John T. Woolley, The American Presidency Project https://www.presidency.ucsb.edu/node/236634