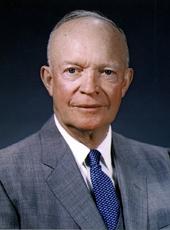 Joint Statement Following Discussions With Prime Minister Fanfani of Italy.
THE PRESIDENT of the United States, the President of the Council of Ministers of the Italian Republic, who is also Minister of foreign Affairs, and the Secretary of State of the United States have concluded two days of discussion on a wide range of topics of mutual interest to their two countries. Other governmental representatives on both sides took part in particular phases of the discussions. In an atmosphere of friendship and understanding they examined the present world situation, including the Middle East and the problems surrounding a possible meeting of Heads of Government within the framework of the United Nations.
The President, the Secretary of State and the Prime Minister exchanged views on the recent developments in the Middle East and found themselves in satisfactory accord. They also agreed on the importance of the position of Italy with respect to its interests in the Mediterranean and in the Middle East, and hence on the importance of insuring means whereby Italy's views may be taken into account on a continuing basis. They arranged to remain in dose contact.
The President and the Italian Prime Minister reaffirmed the dedication of their countries to the North Atlantic Alliance and to the United Nations established to defend the peace and to protect the right of peoples to live in freedom under governments of their own choosing. They reiterated their firm conviction that the combined strength and coordinated action of the free and independent countries of the North Atlantic Alliance are vital to their peace and security, and will remain a cornerstone of their foreign policies.
The President and the Secretary of State expressed full recognition of the contribution being made by Italy in the development of closer political and economic association between the countries of Europe for the purpose of improving the well-being of their peoples.
The Prime Minister outlined the program he proposes with regard to his country's economic problems, including foreign trade. The representatives of the United States expressed their appreciation and their confidence that increased economic ties between the United States and Italy might contribute favorably to this program.
In conclusion the President expressed his gratification with the Prime Minister's visit to Washington and for the opportunity thus provided for a friendly and constructive exchange of views. The Prime Minister in turn voiced his satisfaction at being able, following the assumption of his high offices, to renew his acquaintance with the President and the Secretary of State.

AMINTORE FANFANI
DWIGHT D. EISENHOWER
Dwight D. Eisenhower, Joint Statement Following Discussions With Prime Minister Fanfani of Italy. Online by Gerhard Peters and John T. Woolley, The American Presidency Project https://www.presidency.ucsb.edu/node/233795