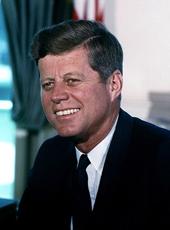 Joint Statement Following Discussions With Prime Minister Caramanlis of Greece.
DURING HIS VISIT in Washington, April 17-20, the Greek Prime Minister and the President of the United States held cordial and friendly talks upon subjects of mutual interest. The same atmosphere characterized the talks of the Prime Minister with the Secretary of State, the Secretary of Defense, and other members of the Cabinet and personalities of the United States administration.
The Greek Prime Minister expressed his thanks for President Kennedy's invitation to visit the United States officially and for the generous hospitality accorded to him and his party.
With regard to the relationship between the two countries it was agreed that it is based upon solid and sincere friendship, mutual confidence and loyalty to common ideals and the common purpose of maintaining peace and safeguarding liberty and justice. It was agreed that cooperation between the two countries in the political, economic and cultural fields should be broadened. It was also agreed that Greek-American ties, which have been steeled in common struggles, should be further tightened in the face of common dangers.
The Greek Prime Minister reviewed the problems in which Greece is vitally interested. These problems, which include the difficult tasks facing the Greek people in achieving economic development and in raising the standard of living, met with the wholehearted interest of United States officials. Mr. Caramanlis expressed the grateful appreciation of the Greek people for United States aid in the past and for the determination of the United States to continue to support the efforts of Greece in carrying out its programs of economic development.
The Americans expressed admiration for the stability and progress prevailing in Greece and recognized that these are invaluable assets for the free world.
Special attention was devoted to common defense problems within the framework of the North Atlantic Treaty Organization. The need to strengthen the defense of the Atlantic community was recognized, as well as the importance of promoting solidarity and the fulfillment by each member of its obligations.
In this connection the situation in the Balkans, and other areas of immediate interest for Greece, were given particular attention because of their importance in the maintenance of international stability and peace. It was agreed that the two governments would continue to consult closely with each other regarding developments in these areas and elsewhere.
It was recognized that progress toward world security and peace would be advanced greatly by reliable, controlled international disarmament agreements and by agreed procedures for the maintenance of peace and the settlement of disputes in accordance with the principles of the United Nations Charter. To uphold those principles, determination was expressed to strengthen the United Nations Organization.
The emergence of the new African states was welcomed by both sides. Both countries recognized their responsibility to assist those new states in their growth and development.
John F. Kennedy, Joint Statement Following Discussions With Prime Minister Caramanlis of Greece. Online by Gerhard Peters and John T. Woolley, The American Presidency Project https://www.presidency.ucsb.edu/node/234682